Psystar Asks for Donations, Sells 'I Sued Psystar' T-Shirts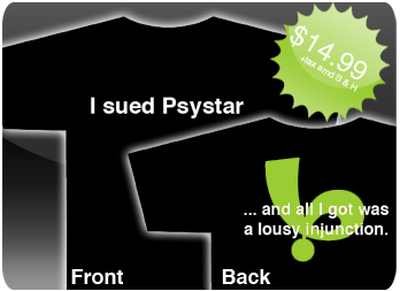 In perhaps the final chapter to the Psystar saga, Psystar has
updated
their website over the holidays with a letter explaining that they have suspended sales of the Rebel EFI software product as they await clarification from the courts.
Meanwhile, in an apparent effort to raise funding, they are asking for $20-$100 donations on their website and also selling a $15 T-Shirt that reads "I sued Psystar" on the front and "... and all I got was a lousy injunction." on the back.
Psystar was an unauthorized Mac clone manufacturer that was sued by Apple earlier this year for copyright infringement and DMCA violations. The final verdict came just a couple of weeks ago forcing Psystar to shut down by year's end.