Apple Patent Application Reveals Moldable Charging Dock for Media Devices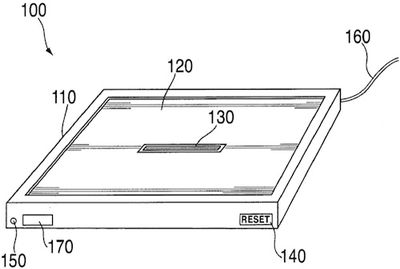 In addition to
yesterday's published patent applications
from Apple describing tamper-resistant labels and accelerometer-based menu navigation,
Patently Apple noticed
a third interesting patent, this one covering a universal charging station with a moldable elastic surface surrounding the actual connector, capable of conforming to and supporting devices with varying form factors.
The patent application, entitled "Aesthetically pleasing universal dock" and filed on June 4th, 2008, seeks to improve on Apple's existing system for universal docks, which offers individual plastic inserts for each device form factor to allow them to fit snugly into the dock.
In one embodiment, a dock that supports a plurality of differently-shaped electronic devices includes a housing, a connector coupled to the housing, and a compressible support layer positioned at least partially about the connector. At least a portion of the compressible support layer compresses to the shape of at least a portion of an electronic device that is attached to the connector.
Apple suggests a number of possible options that could be offered on such a dock, including the ability to offer "lasting compression" that would retain the shape of the device mounted in it after removal, allowing for easy remounting of the device at a later time.

Apple also proposes a related support mechanism in which, rather than a support material compressing to fit a device, a thinner support material could rise in response to the mounting of a device, creating a support around the device. Apple also proposes the possibility of using mechanical or electrical signals and buttons to mold the support surface, allowing a user to create an appropriate surface for their device or reset an already-molded surface at the touch of a button.
Taking things even a step further, the application proposes that a method could be employed for the dock to automatically detect what kind of device is being mounted and conform its support surface accordingly. And finally, Apple proposes including an infrared remote sensor as in existing universal docks, allowing for control of devices mounted in the dock.