Apple Patent Applications: Tamper-Resistant Labels for Hardware, Accelerometer-Based Menu Navigation
The U.S. Patent and Trademark Office today published over 20 newly-released patent applications from Apple, and AppleInsider highlights two of the more interesting ones covering tamper-resistant labels for detecting unauthorized opening of devices and accelerometer-based navigation of menus on Apple's handheld devices.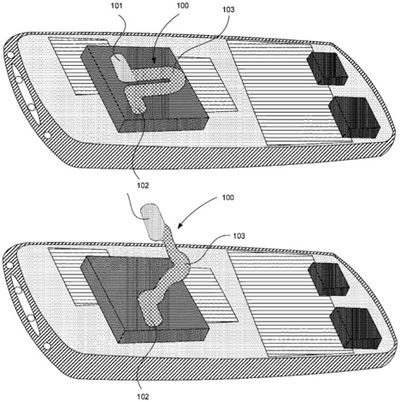 The
first patent application
, entitled "Tamper resistant label for detecting device openings" and filed on August 1st, 2008, addresses a unique type of tamper-resistant label that could be fixed across a seam in an electronic device such that twisting or bending the label beyond a certain point would damage the label, leaving evidence of unauthorized access to the device's internals.
The label can be arranged and affixed such that the label rips, tears or is otherwise damaged to a point that it cannot be repaired when the device is fully or at least substantially opened. The single device can become substantially opened when the first object is tilted with respect to the second object at more than a certain angle, such as an angle that is greater than about 10 degrees or greater than about 40 degrees. Alternatively, the single device can become substantially opened when the first object and second object are separated more than about one inch apart at any location where the first object and second object touch to form the single device. Such a rip or damaging of the label can then be readily noticed by an authorized technician or representative when the entire device is turned in for official servicing or repairs. In some embodiments, the label can remain intact when the device is only partially opened or "cracked open," such that it is possible to peek inside the device without damaging the label.
Apple appears to have been taking an increased interest recently in addressing circumstances which could result in a customer voiding their warranty due to misuse of or unauthorized access to the internals of their devices. Another recent patent application from Apple described methods by which a device could determine and record whether it had been exposed to a variety of conditions including liquids, extreme temperatures, excessive shock, and unauthorized tampering. Repair technicians could later access these recorded "abuse events" in order to determine what may have caused a given device failure.
The second patent application, entitled "Acceleration navigation of media device displays " and filed on June 28th, 2008, addresses the concept of using an accelerometer within a portable media device such as an iPod to navigate menus within the user interface.
In response to the device being physically moved, circuitry of the device can receive acceleration data generated by one or more accelerometers. The circuitry can be configured to respond to the acceleration data by presenting a second display. The second display can be, for example, another menu in the menu hierarchy or the same menu with a different option highlighted. Highlighted, as used herein, includes any means or method for emphasizing one option in relation to another. Common forms of highlighting one or more options include, for example, a bolder font, a colored-in-area around the option, a line around the option, etc. A cover flow type of approach (using, e.g., album covers or other clip art) can also be used to highlight an option.
The patent application describes the use of "flicking" accelerations in various directions to navigate user interface menus and select options. Under certain circumstances, accelerometer-based input could be configured to require that a physical button be held down before being registered, reducing unintentional input.

Apple uses accelerometers in variety of products, including its iPhone, iPod touch, and iPod nano, in order to sense device orientation for such tasks as automatically rotating screen display between portrait and landscape mode, as well as for application input. Other Apple devices, such as the company's notebooks, incorporate accelerometers to sense when they have been dropped, allowing sensitive components such as the hard drive to deactivate and brace for impact, limiting potential damage.