Low-End Mac Mini Shipping Date Slips Slightly, Additional Reports of iMac Shortages Surface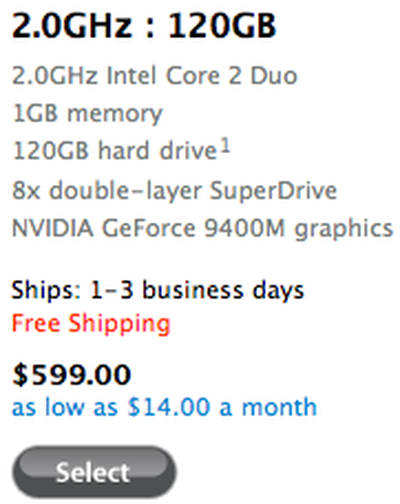 The shipping window for Apple's low-end Mac mini in the company's U.S. and Canadian online stores has slipped today to "1-3 business days" from the usual "Within 24hrs" timeframe, adding further hints of supply constraints and a possible refresh for Apple's diminutive desktop computer. The move comes on the heels of
reports
that Apple has notified its retail stores of shortages of the low-end Mac mini, as well as all four iMac configurations.
TUAW today also adds additional detail on desktop shortage claims, noting that an employee at one Apple retail store has reported only four iMacs in stock at that location, far below usual stock levels.
Several of our tipsters work for Apple Authorized re-sellers who are running very low on desktop supplies, even an Apple Store tip says they have 4 iMacs in stock. When I worked at the Apple Store, there were always 40+ iMacs in stock. Having 4 in a store is just unheard of -- unless there's something in the works.
Another source reports that they placed an order for a Mac mini earlier this month and initially received indication that the machine would ship in a timely manner, only to have the shipping date recently adjusted to October 9th.
Reports in recent weeks and months have suggested that iMac and MacBook updates are due in the near future, and while details on a potential Mac mini upgrade have been scarce, mounting evidence suggests that Apple has changes in store for the line of budget desktops as well.