New 'iProd1,1' Reference Found in iPhone OS 3.1 Beta Configuration File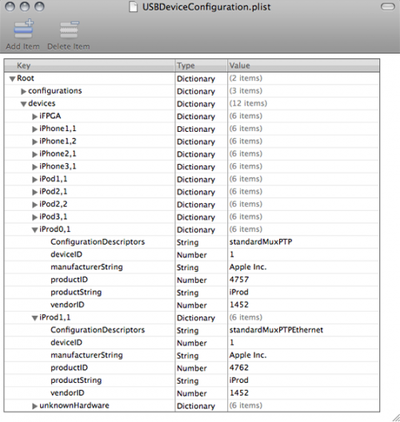 Image from Ars Technica
Ars Technica reports
that the latest version of the iPhone OS 3.1 beta
seeded to developers last week
contains an updated configuration file that references two mysterious products known as "iProd0,1" and "iProd1,1". A reference to "iProd0,1" was
initially spotted
back in March in a version of the same configuration file in an iPhone OS 3.0 beta, but this latest reference to "iProd1,1" appears to be a new addition.
The iProd1,1 device has been assigned a new productID of 4762 (versus 4757 of iProd0,1) and assigned a different ConfigurationDescriptor of "standardMuxPTPEthernet." iPhone models also have this designation, and the additional interface identified in the plist for this configuration is "AppleUSBEthernet." The consensus here seems to be that the new device may have gained high-speed networking capabilities -- though the iPhone uses the interface to tether to a laptop to share its 3G connection.
The numerical designation on "iProd0,1" suggested that the device was simply a prototype, but the new addition of a "1,1" version of the device implies that it may now be approaching a public release.
While exactly what the "iProd" designation is referring to remains unknown, speculation of course centers on Apple's rumored tablet computer, although whether that device would run iPhone OS in some capacity or something more similar to Mac OS X is not clear. Other possibilities raised by Ars Technica include a next-generation iPod nano rumored to include a camera (although it seems doubtful that this device's operating system would be based on iPhone OS 3.0) or Apple's fabled "iPhone nano".
References to unreleased products "iPod2,2", "iPod3,1", and "iPhone3,1" also continue to appear in the configuration file. The "iPhone2,1" device discovered in a similar manner in January eventually turned out to be the iPhone 3GS.