WWDC Keynote Starting Soon, Grand Central Banners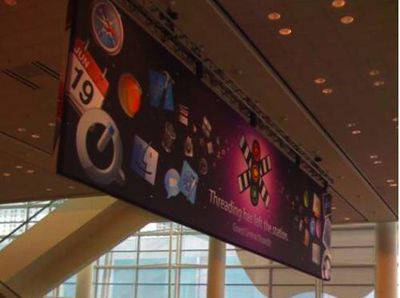 Apple's 2009 WWDC Keynote is going to start soon. Here's a photo from one of the banners from the second level of Moscone which reads:
Threading has left the station.
Grand Central Dispatch
The banner is referring to a new feature in Snow Leopard that will allow developers to more easily support multi-core processors for improved performance on the Mac.
We're providing live coverage for the event at MacRumorsLive.com and all traffic from MacRumors.com will redirect to that page when the time comes.
Notes:
- iCal has the date of June 19th. The default date for the icon has been July 17th, the day the app was first announced in 2002.
- There is a new QuickTime icon.
- Apple's online stores are down.