Highlights of Apple's iPhone OS 3.0 Preview: Copy and Paste, A2DP, MMS, Much More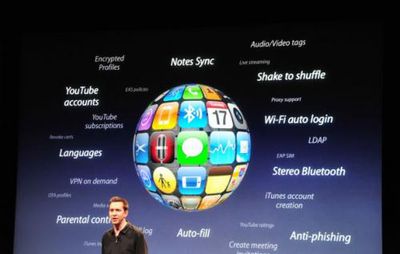 Apple today hosted a preview event for its upcoming iPhone OS 3.0, highlighting a few of over 1,000 new APIs for developers and over 100 new features for users. Full details are available in our
live updates
, but here are some of the highlights:
- In-App Purchasing: Allows developers to sell additional content from within applications. Highlighted uses include magazine subscriptions, eBooks, additional levels and items for games.
- Peer-to-Peer Connectivity: Find other devices running the app via Bonjour over Wi-Fi of Bluetooth. Good for gaming, but also other applications for sharing data.
- Third-Party Accessory Apps: Allowing accessory manufacturers to create applications to interface with their hardware accessories.
- Push Notification: Rather than using background processes that hamper battery life, utilize third-party server to push badge, text, and audio alerts from applications.
- Turn by Turn: Apple will allow developers to use CoreLocation for turn-by-turn GPS directions.
- Cut, Copy and Paste: Available across all apps. Shake to undo or redo.
- Landscape keyboard: Available in all key applications, including Mail.
- MMS: Picture messaging now available.
- Voice Memos: Record notes, lectures, interviews, etc.
- Spotlight Search: Available across all applications. Systemwide search available from main home screen by flicking to the left.
- A2DP Bluetooth: Support for stereo bluetooth headsets.
Tethering, another much-requested feature, was addressed in the Q&A section of the event. Apple is building the client side of tethering into OS 3.0, but cooperation from carriers is also required in order for it to be offered.
The new iPhone OS 3.0 is available to all registered iPhone developers today as a free beta. Full release to customers will be this summer. OS 3.0 will be free for all iPhone users and a $9.95 upgrade for all iPod touch users. Most features will be available for the first-generation iPhone, although hardware limitations will prevent some features, such as MMS and stereo Bluetooth, from being added to those devices. Meanwhile, Apple also revealed that Bluetooth support can be activated in the 2nd generation iPod Touches.
Apple has posted an iPhone OS 3.0 Preview page listing a few of the highlights. A video of today's media event will also be posted to the page later today.