Live Coverage of iPhone 3.0 Media Event
Apple's iPhone 3.0 media event is about to kick off. Here are a collection of links for live text and photo coverage of the event which takes place starting at 1 p.m. Eastern Time, 10 a.m. Pacific.
- gdgt
- Gizmodo
- Engadget
- ArsTechnica
- Macworld
- CNet
- Wired
- Fortune
MacRumors will also provide a summary of announcements in this article as well. MacRumorsLive will return at WWDC 2009.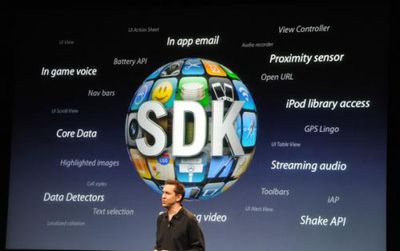 Summary of News- Doors have opened, audience has taken their seats. Coldplay is of course playing in the background.
- Lights down, Greg Joswiak on stage. Scott Forstall will also be presenting.
- Gizmodo: "iPhone sales are up to 17 million through December 2008. If you count iPod Touch together with iPhones, theyve sold 30 million devices."
- Engadget: "This has been great for devs. In one year's time we've had over 800,000 downloads of the free SDK. We've had over 50,000 companies and individuals join our dev program. And most of them, over 60%, have never developed for any Apple platform before."
- Promoting Gameloft: "They've had over 2m paid downloads for Gameloft."
- Short video feature on Trism developer Steve Demeter
- Announced 800 million app downloads for the App Store. Big applause.
- 25,000 apps in the App Store. For their most current month of data, 96% of apps have been approved. Of those, 98% have been approved in a week or less.
- Scott Forstall now on stage.
- Gdgt: A year ago we announced the native iPhone SDK we enabled devs to use the same APIs and tools that we use. We gave them the best tools, APIs, and frameworks EVER for building apps. What they did with this blew. Us. Away. So weve been working hard to make this even better. And with 3.0 comes the next generation of apps and with that over 1,000 new APIs. Wow, 1k new APIs!
- App Store enhancements. Devs want other business models, such as subscriptions.
- Game developers want to sell additional levels, eBook developers want to sell one app and then sell books inside it.
- We're supporting this now with "In-App Purchase".
- Purchasing continuing issues of a magazine. Purchase one city guide, and then purchase additional guides from within the original app. All tied to your iTunes account.
- For paid apps only. You won't be asked to buy anything in a free app.
- Next, peer-to-peer connectivity.
- Engadget: "With the new APIs, you can bring up a standard system panel which finds other touches or iPhones which are in the same app. You form an IP connection, and you can game together. This will automatically discover running apps, wirelessly over Blutetooth."
- Utilizes Bonjour. Not just for games.
- Next up, accessories.
- Enabling third-party accessories developers to create custom apps to interface with the hardware accessories.
- Showing example of an equalizer app controlling a third-party speaker system.
- Can talk to accessories via dock or Bluetooth.
- Now, maps. Google Maps can be embedded into any application.
- Developers can now use CoreLocation to make Turn by Turn applications!
- Due to licensing, can't use Google Maps for turn-by-turn, so "bring your own maps."
- Push notification
- Gizmodo: Now, Push Notification. You know, were late on this one. Theres a few reasons for this, most importantly, within two months of launching the App Store, we had over a thousand applications on the app store.
- But now it's ready to go.
- Had to restructure the entire architecture. Background processing doesn't work. Tested by putting an IM application in the background, and standby time dropped by up to 80%.
- Uses push notifications on a third-party server to maintain communication. Can push badge alerts, text alerts, and audio alerts.
- Gdgt: It preserves your battery life, maintains performance, and its optimized for mobile networks. Were in 80 countries around the world, and each carrier has slightly different network configs were doing all the hard work for you. This is just a few of the more than thousand APIs in-app email, iPod lib access, shake API, UI table view, cell styles, highlighted images, core data, nav bars, battery API, audio recorder, locatized collation, and text selection!
- Asked some developers to make some apps in two weeks with the new 3.0 APIs. Now showing demos.
- Starting with Meebo. Seth Sternberg, Meebo CEO is on stage. Meebo integrates chats across various networks. Push notification was the last piece they felt they needed to make a great iPhone app.
- Next up, Electronic Arts.
- Travis Boatman from EA showing off The Sims.
- Talking about in-app purchases. Will be able to buy items in the game for $0.99.
- Next up, Oracle.
- iPhone app to track supply levels, integrates contacts with account reps, etc.
- Next up, ESPN, showing off their native app.
- Brings text alerts via push. Streaming video automatically adjusts quality based on your bandwidth.
- Next up, LifeScan glucose monitoring for diabetes.
- Glucose monitor can take a reading and send it to the iPhone via Bluetooth.
- Can use iPhone to calculate insulin requirements based on readings.
- Next up, ngmoco:), developers of Rolando.
- Gizmodo: Today, theyre showing two upcoming games. First is Touch Pets, a social pet simulator. second is LiveFire, a multiplayer first person shooter over 3G or Wi-Fi.
- Touch Pets: push notification for "playdates" with your virtual dogs. Or something like that. Also uses in-game commerce.
- LiveFire: a first-person shooter with in-game chat
- Can use push to invite friends to your game. Also uses in-game commerce...buy a virtual rocket launcher for a real $0.99!
- Next up, Smule, developers of Ocarina. Ge Wang on stage.
- New app: Leaf Trombone World Stage. A multiplayer music app.
- Demoing an on-stage duet of "Phantom of the Opera"
- Scott Forstall back on stage.
- Now to the customer side.
- Over 100 new features, including cut, copy and paste.
- Double tap text to select, then drag two dots to adjust selection.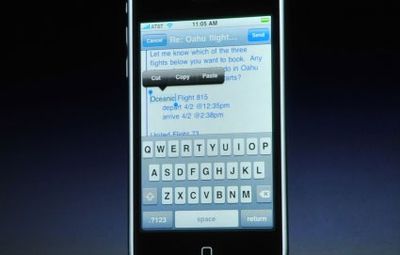 - Can paste between apps. Shake to undo or redo.
- Now Photos. Can now send more than one at a time.
- Landscape mode now available in "all key application", including Mail.
- Adding MMS to Messages application.
- Gizmodo: The BIG news is that theyre adding support for MMS (as we spotted earlier). You can send and receive Photos right over the network. Contacts (VCard). Audio files. Or your location. No word about video yet though.
- Voice memos
- Gdgt: Record voice notes, lectures, interviews, etc. Works with internal or external mic editable and sharable.
- Calendar. Had personal calendars, then added Exchange and MobileMe compatibility. Now adding CalDAV, the standard for Google and Yahoo.
- Can also subscribe to calendars.
- Stocks. Now supports news headlines, additional data such as P/E ratios, etc. Also can use landscape mode.
- Search. Now available in all key applications, including Mail.
- New home screen with an integrated search ("Spotlight") across all apps. Access by flicking to the left from the main home screen.
- Gizmodo: Other good features: Notes Sync, audio/video tags, live streaming, shake to shuffle, Wi-Fi auto login, Stereo Bluetooth, LDAP, iTunes account creation, YouTube ratings, Anti-Philshing, Call Log, Parental Controls, Media Scrubber, OTA profiles, VPN on demand, Languages, YouTube subscriptions, YouTube accounts and Encrypted profiles. Also, auto-fills. The biggest addition here is probably Stereo Bluetooth A2DP support.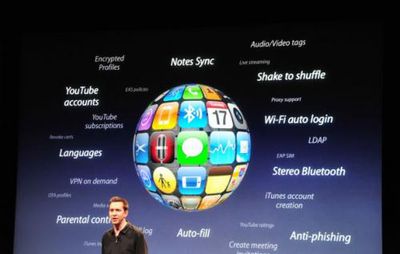 - Now Greg Joswiak back on stage to tell you how to get your hands on it.
- Available as a beta for all developers today.
- Will be available for consumers this summer for free.
- Bringing App Store to 15 more countries for a total of 77.
- Most of it works on original iPhone, except for things requiring changed hardware like MMS and Stereo Bluetooth).
- Will be $9.95 for iPod touch users.
- Schiller and Forstall on stage for Q&A.