Amazon Unveils Kindle 2, eBooks for the iPhone?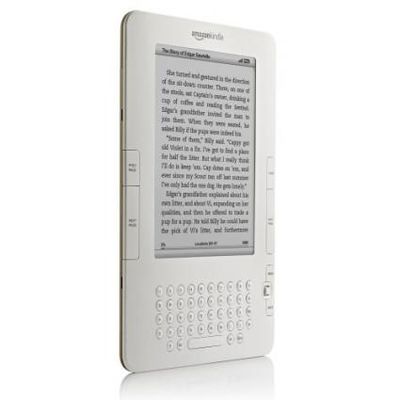 The big non-Apple tech news yesterday was Amazon's announcement of the
Kindle 2
. The Kindle was Amazon's
first entry
into the gadget market with an electronic book reader that was described as "the iPod of reading". The original Kindle offered sales of eBooks over the air through a wireless EVDO connection without a monthly contract.
The new Kindle has made a number of steady improvements over the original design. Features include:
- Thinner. 0.36 inches thick.
- 3G wireless, no monthly fees
- Improved 16 grey-shade display
- 25% longer battery life. "read for days"
- Faster page turns
- More storage (Up to 1500 books)
- Instant dictionary lookup
- Text-to-Speech
The new Kindle will cost $359 and ship on February 24th with pre-orders starting now.
With the introduction of the original Kindle, some Apple customers have hoped that Apple might also enter the eBook market. Jobs dismissed that possibility in early 2008 when asked about the Kindle:
"It doesn't matter how good or bad the product is, the fact is that people dont read anymore," he said. "Forty percent of the people in the U.S. read one book or less last year. The whole conception is flawed at the top because people dont read anymore."
Meanwhile, the iPhone may have inadvertently become the largest eBook reader with the introduction of various eBook apps through the iTunes App Store.
The main issue with these free iPhone readers, however, has been the lack of premium content (new releases) that is found on the Kindle. In the future, there may be more synergy between the technolgies as Amazon also announced last week that they would be working to make Kindle books available "on a range of mobile phones", leading some to believe that the iPhone could someday gain access to Amazon's digital library.