Amazon Enters Gadget Market with Kindle, an eBook Device [Update: Details]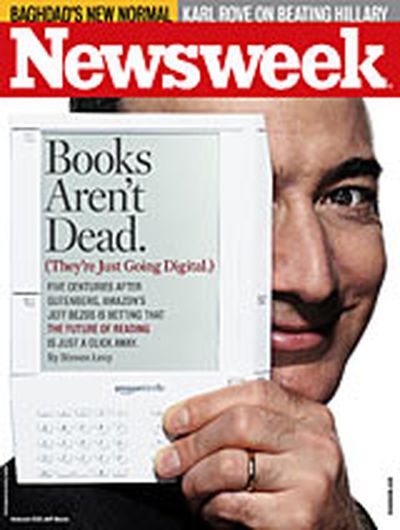 Newsweek provides an early scoop for a device coming from Amazon called "Kindle". The $399 device attempts to deliver a complete eBook solution, unlike existing products, and is described as "the iPod of reading".
Indeed, the feature set is impressive, with EVDO and WiFi connectivity allowing customers to browse, purchase, and download from a library of over 88,000 digital books at launch. Aside from digital book content, you may also subscribe to newspapers and select blogs. The device also incorporates web browsing, email, and the ability to read Word and PDF documents. Other features are said to include:
- Has a keyboard
- 30 hour battery life
- 2 hour recharge time
- 10.3 ounces
- 5.3 inches x 7.5 inches x 0.7 inches, 800x600 pixel
- SD Slot for storage
- USB 2.0
- Uses E Ink technology
- Adjustable Font size
- Can hold over 200 books
- Can search books for phrase or name
- 3.5 stereo headphone jack
Amazon has reportedly been taking cues from Apple's iPod launch, planning on using similar videotaped celebrity testimonials at launch.
Dedicated eBook readers, however, have not yet seen a commercial success, with early attempts by Sony to create a market for the devices. Apple has been rumored to be working on a similarly sized tablet, though not intended specifically to be an eBook reader, there appears to be much cross-over functionality (web, email) between the devices. In fact, Apple was once rumored to be incorporating eBook functionality into an upcoming iPod with digital book sales handled through iTunes.
Final specs and official announcement is expected later on Monday. Larger image available here.

Update: Official announcement and product page reveals more details and demonstration videos and photos.
- No wifi
- EVDO connection - No monthly contract
- $9.99 for new releases and bestsellers
- 1st chapter of books available for free
- No computer required
- $.99/month for blog subscriptions
- Annotations, bookmarks
- Has a basic web browser: Gizmodo: something called "Basic Web" browsing is available in the "Experimental" section of the menu, along with "Play Music" and "Ask Kindle NowNow."
- Plays MP3s