Boxee Adds Hulu, CBS and Comedy Central Support to Apple TV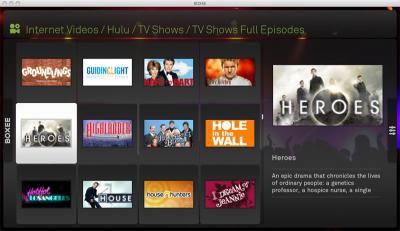 Boxee.tv
has
announced
that they are offering
Hulu.com
,
CBS.com
and
Comedy Central
streaming support into their media management application.
Boxee is a free personal media application that is installable on your Apple TV. Boxee provides your Apple TV with playback support for a wide variety of media types across local networks and the internet. While the process has been simplified, installing Boxee on your Apple TV still requires a multi-step process involving a bootable USB flash drive. Their latest announcement, however, may push some into giving it a try.
Hulu and CBS both offer full streaming episodes of popular television shows. Many of the same episodes are available for purchase on iTunes. Hulu is backed by NBC Universal and is the industry's response to both YouTube and iTunes content. Boxee also coexists with the default Apple TV software which can still be used.
The software is still considered to be in "alpha" so readers should proceed with caution, however, Apple TVs can be easily reset to factory default settings. Our existing invitation thread can be used to ask for invites to the service -- any Boxee user can invite an unlimited number of individuals.