Leaked 3rd Party iPhone 3G Cases Were Real [Updated]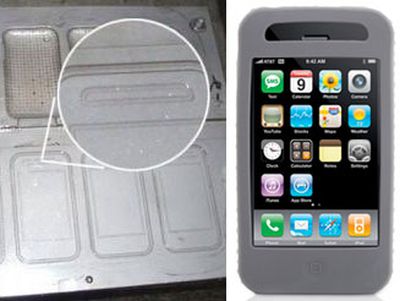 Leaked case mold (left), and final product (right)
In the months leading up to the iPhone 3G launch, there were a few early 3rd party case leaks that claimed to depict the upcoming iPhone 3G design. First reports of the
case specs
came from
iLounge
. They accurately described tapered edge designs, a glossy plastic back, with white and black colors. One aspect of the original story that we haven't been able to confirm is the reported addition of a 3rd sensor, which drove speculation about the possibility of video conferencing. No additional sensor has been described in the
tech specs
for the new iPhone. However, iPhone 3G case designs do appear to have adjusted with a larger openings at the earpiece.
This brings us back to two early reports of 3G iPhone case designs by XSKN and Griffin Technology. Both sets of images appear to have been accurate.
Images of XSKN's EXO Mask iPhone 3G were posted in May generating a lengthy debate. Their product remains available with the design consistent with the actual iPhone 3G release. In retrospect, Griffin's leaked case molds were also accurate with the final FlexGrip for iPhone 3G now announced.
Update In the end, it appears accessory manufacturers did get dimensions of the iPhone 3G prior to the official release. According to Jeremy Horwitz at iLounge, however, the specs did not come from Apple themselves and instead leaked from Apple's iPhone contractors.