Demo Video of SlingPlayer for iPhone and iPod Touch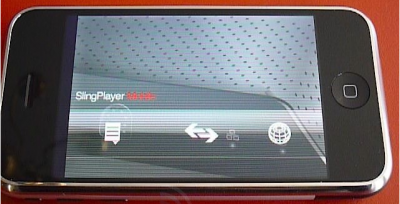 Image from Engadget
Engadget
and
Gizmodo
have posted videos and screenshots of a "Proof of concept" version of the SlingPlayer for the iPhone and iPod Touch. The included video demonstrates how to stream video from your Slingbox, though not all options are presently enabled.
Once you connect to your Slingbox, you control channels with an on-screen remote whose buttons scroll horizontally at the bottom of the screen. There's also a scrollbar full of channel icons that provide shortcuts to specific stations. Video ran pretty smooth and looked good over a wi-fi connection. And it goes without saying, but Sling also has their fingers crossed for a 3G iPhone.
Sling Media sells the Slingbox which allows you to stream video from your home television over the internet to any supported device (Mac, PC, Mobile Phone). This native SlingPlayer port would bring that functionality to the iPhone. Unfortunately, Sling Media has not yet been accepted into the iPhone developer program, but they are targeting a "fall or winter" release.
Apple is expected to detail more about the iPhone Developer Program and the iTunes App Store on Monday, June 9th. We are providing keynote coverage at MacRumorsLive.com.