O2 to Launch iPhone in Ireland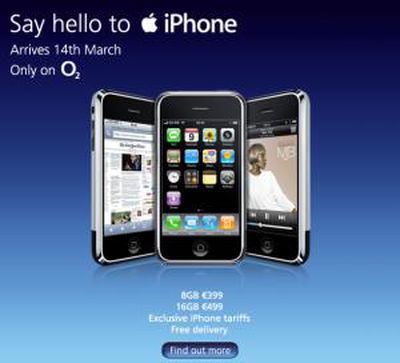 Underscoring
comments
by Apple COO Tim Cook that they are working to expand the iPhone into new geographic areas, wireless carrier O2
announced
that they would be introducing the iPhone in Ireland on March 14th, 2008.
The iPhone will be made available through both O2 retail stores as well as branches of Carphone Warehouse. The 8GB model will cost 399 euro and the 16GB at 499 euro. Tariffs start at 45 euro per month. Visual voicemail is not yet supported.
45 euro/mo: 175 minutes, 100 texts, 1GB data
65 euro/mo: 350 minutes, 150 texts, 1GB data
100 euro/mo: 700 minutes, 250 texts, 1GB data
More information available at o2online.ie.