Ambrosia Software hosted a booth at this year's Macworld Expo to promote some of their new and upcoming software titles for the Mac.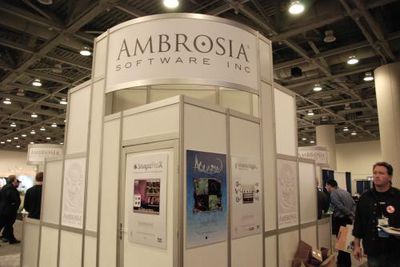 Their most recent utility launch was of
WireTap Studio
which we've previously
previewed
ahead of the official launch. WireTap Studio provides some unique tools for anyone who needs to record or manage audio on their Mac. LivePreview remains the most dramatic feature, allowing you to preview different audio encodings in real time to find the best balance of quality vs. size. I'd expect that podcasters in particular would have an interest in this $69 tool.
iToner is an easy-to-use $15 utility that allows you to convert existing songs (MP3, MP4, AIFF or WAV) into custom iPhone ringtones. The just-announced iPhone 1.1.3 firmware breaks iToner functionality, however, but Ambrosia tells us that version 1.0.6 of iToner is in beta testing and will address the iPhone 1.1.3 incompatibility.

Finally, Aquaria is a new game that Ambrosia will be releasing in "Q1 2008" which is a port of a PC game originally created by Bit Blot. The PC version of the game was only recently released in December of 2007 and well received. Aquaria is described as an "action-oriented, non-linear side-scrolling game that uses an innovative and intuitive mouse control system". Pricing has not yet been announced, but a downloadable demo will be available upon release.
in celebration of Macworld, Ambrosia is offering a 10% discount Macworld Special on all products which remains good until January 31, 2008.