Exclusive Preview: Ambrosia Software's WireTap Studio
MacRumors has been given the opportunity to provide an exclusive preview of an unreleased and unannounced application from Ambrosia Software called WireTap Studio, due for first release later this month.
While WireTap Studio shares a name with WireTap Pro, it is an entirely new application with a broader range and appeal. The major feature of the original WireTap Pro application was the ability to selectively record audio from any Mac application and save it to a variety of formats. Uses ranged from recording Internet radio to ripping audio from DVDs. WireTap Studio promises to provide a more complete solution with tools to record, edit and manage your audio. A few standout features should make it particularly compelling for both amateurs and professionals who distribute audio over the Internet.
As a preview, we are simply touching on the major features of the application, and this shouldn't be seen as a review. I do think that the most compelling feature is the patent pending LivePreview technology, so if you read nothing else you should at least watch the video below. Beyond that, lossless editing and lossless format selection are also very attractive features.The Controller
The WireTap Studio Controller provides you with an "always on top" window that gives you access to many of the features of the application in a compact interface: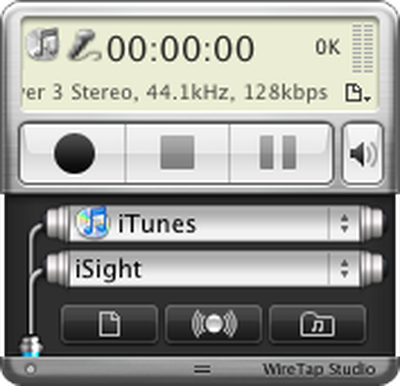 Controller
As you can see, two different sources can be selected. Either source can be an active application or an audio input device: microphone, iSight, Line In, etc. For example, podcasters can record from their microphone as well as a second application such as iTunes or Skype. This means you can perform over-the-Internet audio interviews or lay down a background track to your voice. Most useful, perhaps, is that each track can later be normalized independently, allowing you to calibrate the volumes to match: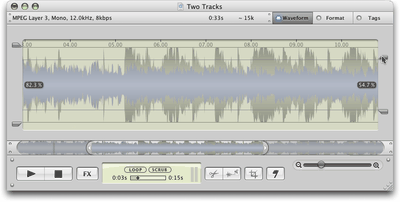 Normalize volume on two different tracks
Audio can of course be recorded and exported in a variety of formats and qualities, including MP3, AAC, AIFC, AIFF, Apple Lossless and WAVE formats. You can choose from presets or specify exact parameters: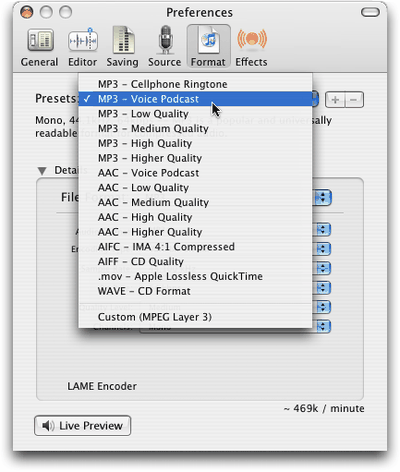 Preset formats
The Library
Recordings are organized in an iTunes-like library view, which can be organized into folders and searched by keywords/tags. Audio recordings can be distributed conveniently, simply by dragging the title to the appropriate icon on the bottom "Send to" toolbar. Ambrosia tells us that they will be including "iPhone" as an export option before the application is released.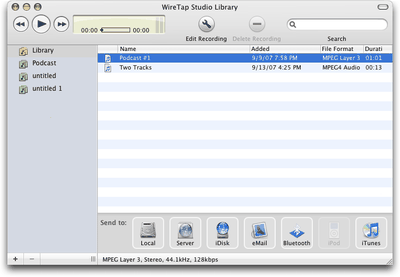 Library view
LivePreview
Now, on to the good stuff. One challenge for audio distribution on the Internet is finding the sweet spot between file size and audio quality. To address this, WireTap Studio provides a new feature called LivePreview. LivePreview gives you realtime conversion of the source audio into any supported format. This allows you to preview encoding quality on the fly.
Describing LivePreview doesn't quite capture the ease and utility of the feature, so I encourage you to watch this QuickTime movie of LivePreview in action:

Audio starts about 25 seconds into the video. The audio source is a CD.
Lossless Recording and Editing
While changing audio encoding on the fly is nice, getting to change your mind is even better. Once audio has been recorded, the audio encoding decision that you make is not set in stone.
Under the hood, WireTap Studio records everything in a full-quality lossless format. For instance, if you use WireTap Studio to record off of a CD into a 64kbps MP3 file, you can later (days, weeks, etc...) change the format to 128kbps (or 320kbps) MP3 and see the expected gain in quality. The full uncompressed audio remains available to the software "behind the scenes" to allow format conversions to work as expected.
Another related feature is lossless editing. No matter how many changes you've made to the recording, you can always go back to the original recording (at the highest quality). This feature is similar to how Apple's iPhoto and Aperture applications work on digital photos, keeping the originals intact while you apply edits over time.
Other Features
- Timed recordings with Pre-recording actions and Post-recording actions
- Scheduled recordings with auto wake from sleep and auto power on for the computer
- Support for Audio Unit plug-ins
- Automatically Crop Leading and Trailing Silence
- Mark and Crop at Silence
WireTap Studio will be offered as shareware and is expected to be released later this month with upgrade options for existing WireTap Pro customers.