Apple Designing Car Interfaces?
While an earlier report today claimed that Volkswagen and Apple were working on integrating Apple products into future Volkswagen models, reader Chris Bangle notes that Apple may have been working on control interfaces for at least one upcoming luxury car.
CarMagazine.co.uk has a feature about the upcoming Jaguar XF, and an interview with the designer, Ian Callum.
The interview concludes with Callum talking about the new Jaguar's gearshift mechanism ("JaguarDrive"), and claims that Apple has had some involvement with their design:
Step inside and the starter button starts to pulsate like a heartbeat. Press it and the car comes to life. The air vents rise up and the JaguarDrive Selector pops up. We took so much comment on the old J-gate change and felt it was time for a change. The dial takes up less space, too. We have been working with Apple on control interfaces.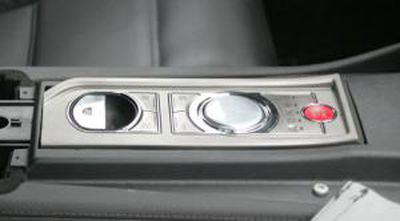 A description of the JaguarDrive Selector describes it as follows:
The JaguarDrive Selector replaces a conventional gearstick. Sitting flush with the centre console, it rises electrically when the ignition is turned on. It's a metallic rotary dial (not dissimilar to BMW's iDrive control) that twists to change gear on the standard six-speed automatic box, rotating easily between P, R, N and D. We've tested it and its action is pleasant and seamless. Importantly, it frees up oodles of extra space on the console.
Apple was also the focus of an earlier rumor that Apple was working on car navigation and sound systems in partnership with Mercedes for a 2009 launch.