iPhone Activation and Syncing Video
Besides announcing rate plans today, Apple has also posted a video demonstrating how to activate and sync the iPhone.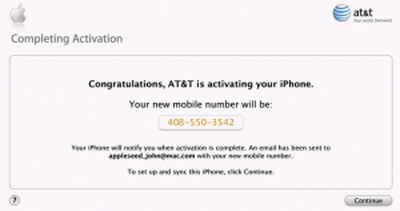 The iPhone is activated through iTunes. Activation works for both existing and new AT&T customers, and allows users to transfer their existing phone number to the iPhone.
The syncing portion of the video demonstrates how to sync email accounts, address, safari bookmarks and more.
Apple and AT&T Inc. today announced that iPhone users will be able to activate their new iPhones using Apple's popular iTunes software running on a PC or Mac computer in the comfort and privacy of their own home or office, without having to wait in a store while their phone is activated. Activating iPhone takes only minutes as iTunes guides the user through simple steps to choose their service plan, authorize their credit and activate their iPhone. Once iPhone is activated, users can then easily sync all of their phone numbers and other contact information, calendars, email accounts, web browser bookmarks, music, photos, podcasts, TV shows and movies just like they do when they sync their iPods with iTunes.
Several readers have noted that the syncing video shows "74.40 GB" capacity at one point, but this most likely represents an editing error.