Steve Ballmer on Microsoft Surface at All Things Digitial
Steve Ballmer, CEO of Microsoft, is being interviewed at the Wall Street Journal's All Things Digital conference this morning. Ballmer discussed and demoed Microsoft Surface, a multi-touch table that was introduced earlier today.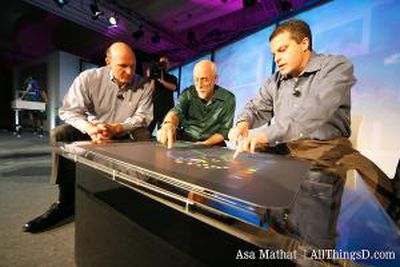 Walt Mossberg
addresses
similarities with the technology to the Apple iPhone:
Walt notes Surfaces user-interface similarities to Apples iPhone and some new HP devices, and wonders about intellectual-property issues. Were confident in our IP, says Pete Thompson, general manager of Microsoft Surface Computing. And, he adds, multitouch has been around for a long time.
Microsoft plans thin-panel versions, vertical displays, and other form factors for the technology.
Mossberg also asks "if Microsoft will stick with Zune, given the seemingly impossible task of catching up to Apples iPod", to which Ballmer stated "We're firmly behind Zune." Meanwhile, Ballmer denies that Microsoft will ever develop a Phone.
Steve Jobs and Bill Gates are to be interviewed later today at the All Things Digital Conference. Jobs will also be interviewed in a separate session alone.