Apple Reports Strongest Ever Quarterly Earnings: $13.1 Billion Profit on $57.6 Billion in Revenue in Q1 2014

Apple today
announced financial results
for the fourth calendar quarter of 2013 and first fiscal quarter of 2014.
For the quarter, Apple posted revenue of $57.6 billion and net quarterly profit of $13.1 billion, or $14.50 per diluted share, compared to revenue of $54.5 billion and net quarterly profit of $13.1 billion, or $13.87 per diluted share in the
year-ago quarter
.
Gross margin was 37.9 percent compared to 38.6 percent in the year-ago quarter, with international sales accounting for 63 percent of revenue. Apple also declared a dividend payment of $3.05 per share, payable on February 13 to shareholders as of the close of trading on February 10. The company currently holds $158.8 billion in cash and marketable securities.
Apple had previously issued guidance for the quarter of revenues between $55-58 billion, with gross margin between 36.5 and 37.5 percent.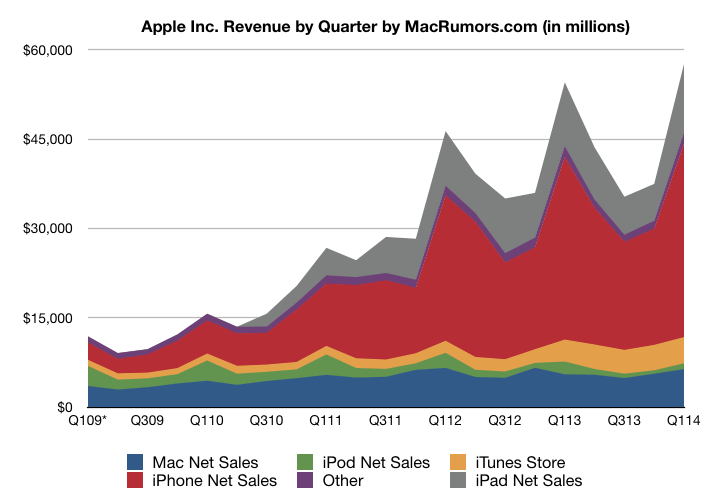 Apple sold a record 51 million iPhones in the quarter, up from 47.8 million in the same time period last year, and the company has now sold 472.3 million smartphones in total. It sold 26 million iPads, a new record, up from 22.86 million last year. Apple has now sold 195 million tablets. It sold 4.8 million Macs during the quarter, compared to 4.06 million in the year-ago period.
"We are really happy with our record iPhone and iPad sales, the strong performance of our Mac products and the continued growth of iTunes, Software and Services," said Tim Cook, Apple's CEO. "We love having the most satisfied, loyal and engaged customers, and are continuing to invest heavily in our future to make their experiences with our products and services even better."
Apple's guidance for the second quarter of fiscal 2014 includes expected revenue of $42-44 billion and gross margin between 37 and 38 percent. This guidance reflects an expectation for near zero growth from Q2 of fiscal 2013.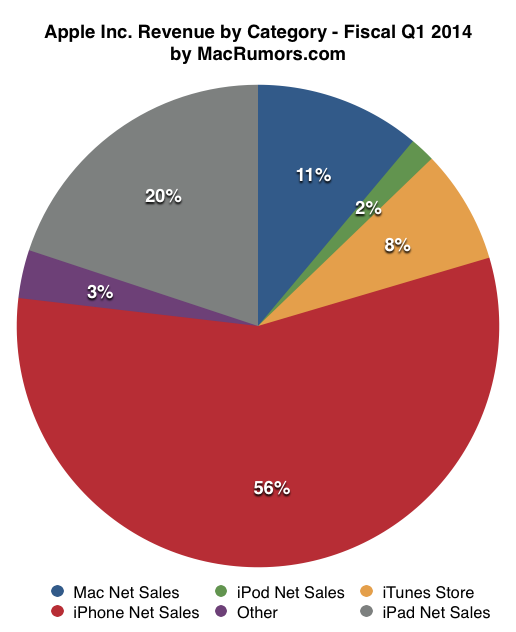 Apple will provide live streaming of its Q1 2014 financial results conference call at 2:00 PM Pacific, and
MacRumors
will update this story with coverage of the conference call highlights.
Conference Call and Q&A Highlights are available in reverse chronological order after the jump.
Live Updates - No need to refresh

Loading live updates...