Mavericks
Free download available now
By MacRumors Staff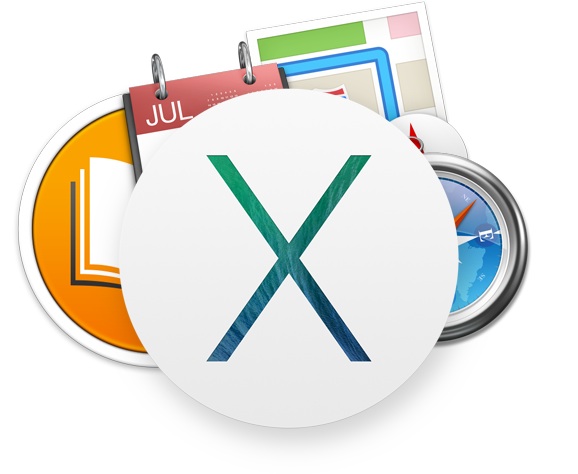 At a Glance
Mavericks, or OS X 10.9, is Apple's newest operating system, available now for free from the Mac App Store
Highlights
New iBooks and Maps apps
iCloud Keychain for cross-device password syncing
Interactive notifications
Finder Tags and Tabs
What's New
OS X 10.9 Mavericks introduces a number of new features aimed at extending both battery life and responsiveness. Apple has promised 200 changes in Mavericks, including both minor cosmetic updates and major performance enhancements. The new operating system was released just after Apple's October 22, 2013 media event and is a free upgrade from the Mac App Store for all OS X Mountain Lion, Lion, and Snow Leopard users.

Mavericks has several new features developed for power users, with enhanced multi-monitor support and expanded finder capabilities. All users will experience improved power usage, a new iCloud Keychain function for secure cross-device passwords, and better Safari performance.
A new iBooks app and a new Maps app are both bundled into Mavericks, allowing users to read books and access maps within native apps for the first time. While Mavericks has not gotten the same drastic visual overhaul found in iOS 7, a number of skeuomorphic elements introduced with Mountain Lion have been removed.
Several apps, such as Calendar, Address Book, and Notes, have been redesigned, and many of the linen user interface elements have been removed. The Dashboard, the Notification Center, and the login screen have new backgrounds and Launchpad folders have both translucent backgrounds and new fade in and out behaviors.
Mavericks introduces a deep level of integration between iOS and OS X. Apps like Calendar, iBooks, Safari, and Maps sync seamlessly between Macs and iOS devices, and iCloud Keychain means hassle-free logins and password access across devices. Drastic improvements to Notifications have also been included, making actions like responding to emails and messages quicker than ever.
Following the release of the Golden Master, Apple launched Mavericks just after the conclusion of its October 22 iPad-centric event.
Current Version
Mavericks was updated to version 10.9.5 on September 17, which is likely to be the operating system's last update now that OS X Yosemite is available. Like OS X 10.9.4, 10.9.5 is a minor update that provides a few bug fixes. According to release notes, OS X 10.9.5 improves the reliability of VPN connections that use USB smart cards for authentication and it improves the reliability of accessing files located on an SMB server. Apple also recently introduced a security update to fix a Bash vulnerability. This was not distributed via the Software Update tool in the Mac App Store, but it can be downloaded from Apple's support page.
Version 10.9.4 of Mavericks, launched on June 30,10.9.4 was a minor update that added improved reliability of wake from sleep and fixed an issue that prevented some Macs from automatically connecting to known WiFi networks.
Version 10.9.3 of Mavericks, launched on May 15, added improved support for 4K displays on both the Mac Pro and the Retina MacBook Pro. The update also brought the return of contact and calendar syncing over USB and introduced Safari 7.0.3.
Version 10.9.2 of Mavericks, released on February 25, fixed a major SSL verification vulnerability that left OS X users open to attacks on shared networks. The update also included support for FaceTime Audio, the ability to block incoming iMessages from individual senders, and several additional Mail improvements and other bug fixes.
Version 10.9.1 of Mavericks, introduced in December, included improved support for Gmail in OS X Mail, improved reliability for Smart Mailboxes, an update to the Shared Links option in the Safari Sidebar and a fix for a bug preventing VoiceOver from speaking sentences containing emoji.
Features
Power Saving Capabilities

Better battery life is the keystone of Mavericks, and Apple has introduced several features that are designed to reduce power consumption. Cutting down on CPU activity is one of Apple's main focal points with the operating system, which is why the company has implemented a new feature called Timer Coalescing.
Timer Coalescing is designed to group multiple low-level operations together into one batch action, causing short periods of idle time that allow the CPU to enter a low-power state on a more frequent basis. This reduces CPU utilization by up to 72 percent when a Mac is using battery power.
Another new feature, Compressed Memory, compacts the least recently used processes stored in memory by more than half their size, thereby making more free space available to running apps. Items are decompressed as needed, and according to Apple, the compression/decompression cycle is ultimately faster than swapping information to disk. By spending less time reading and writing virtual memory swap files on disk, power consumption is improved as well.
App Nap, designed to preserve the energy used by inactive apps, cuts down on the power usage of an app that is not running in the foreground. When an app's window is not visible (minimized to the dock, for example) it is considered to be "napping", which causes OS X to put it into a low-power state regulating its CPU usage and throttling both timers and input/output activity. This reduces power, but it also prevents napping apps from interfering with the processes of active apps.
Developers are able to prevent their apps from using App Nap on a per app basis, but the feature should provide significant improvements in CPU idle time for apps that would otherwise attempt to frequently access data in the background.
Apple's ultimate goal for Mavericks is to reduce the workload of a computer when on battery power, performing only essential tasks or tasks requested by the user. To facilitate improved power usage, the menu bar also includes a new drop down indicator that displays apps that are using a significant amount of power.
Mavericks also includes a new feature that leverages the light sensors included in many Macs to detect movement in front of the machine, preventing the system's Energy Saver sleep functions from activating even when the user is not actively using the machine. When the light sensors detect movement, the system's idle time is reset, keeping the machine running when a user is nearby for convenience.
Finder Improvements
Apple's default file manager, Finder, receives some significant upgrades in Mavericks. Tabs can merge multiple Finder windows into a single window, functioning similar to tabs in browsers like Safari and Chrome. Each tab can be assigned a different view, meaning one tab is able to display icons while another displays a list view and files can also be dragged between tabs.

File management has also received an overhaul with the addition of tags, a powerful feature that allows for the quick organization and location of files. In addition to a location and a name, files can also be identified with a colored tag.
Tags are displayed in the Finder sidebar, and provide a way to group documents from different locations on the computer into one place. A single document or file can have multiple tags, allowing it to be grouped in several different ways.
Multiple Displays
Mavericks includes better support for multiple displays, allowing users to run more than one app in full screen mode for the first time. In Mountain Lion, switching an app to full screen mode causes it to take over all connected displays, but Mavericks allows separate full-screen apps to run on each display.

Menus and the Dock are also be available on more than one display, and Spaces can be panned independently on each screen. Both windowed and full screen apps can also be dragged from one display to the next, but application windows can no longer span multiple monitors.
Mission Control shows individual displays as different desktop previews and allows users to drag and drop apps between displays.
The multi-display support also brings improvements to AirPlay, allowing an HDTV to function as a full-powered HD display. Users can connect to an Apple TV and use it as a separate monitor, functionality that is not possible with Mountain Lion. Windows and full screen apps can be dragged to the TV, meaning a movie or television show purchased from iTunes can be played in full screen while leaving the rest of the computer free to perform other tasks.
App Additions and Redesigns
In Mavericks, Safari has a new look. The Top Sites page has been revised to allow sites to be reordered by dragging and a newly redesigned sidebar contains a list of links shared on social networks like Twitter and LinkedIn. The fully searchable sidebar also includes large icons for Bookmarks and Reading List, which now offers continuous scrolling between saved items.
New cookie blocks prevent websites from accessing tracking information in plug-in caches, and JavaScript also works faster.
Safari has been optimized for Retina displays, supporting 60 frames per second during scrolling, and will gain multiple performance enhancements including process per tab architecture and a shared memory resource cache, allowing the browser to consume less energy while functioning more efficiently. Safari Power Saver pauses video plug-in content and other web items that play automatically in the margins of some sites, saving battery power.

The Notes and Calendar apps have been redesigned to remove some of the previous skeuomorphic design elements that were introduced with Mountain Lion, but other apps, like Messages, Reminders, and Game Center have not received a new design.
A new dedicated Maps app has been bundled into Mavericks and features many of the same design elements found in the iOS app. Users can access street maps, Flyover data, 3D maps, points of interest, and turn-by-turn directions. Bookmarked locations and directions are linked with the iOS version of Maps via iCloud to allow for quick switching between devices.
A developer SDK allows third-party apps to include new mapping APIs, and Maps functionality has been integrated with other apps, including Calendar. The Calendar app adds both directions and anticipated travel time to events that include an address, and it also supports weather information and cross-platform notifications. Continuous Scrolling, a small but useful addition to the Calendar app, allows users to scroll through weeks or months of events.
A native iBooks app has been added to the operating system, offering a slew of new features for students. iBooks will include standard books and textbooks, with interactive multimedia embeds, full screen support, and advanced note-taking capabilities. Notes taken while reading can be turned into study cards.
Following its announcement at WWDC, Mavericks has been updated with additional minor features including the ability to block phone numbers and Apple IDs in the Messages and FaceTime apps, which is a feature that was first introduced with iOS 7.
Enhanced Security
Mavericks introduces the iCloud Keychain, which functions similarly to password storage apps like 1Password. iCloud Keychain utilizes 256-bit AES encryption to securely store sensitive information like website logins, passwords, credit card numbers, and Wi-Fi networks. It features cross-device synchronization of passwords for use within Safari, and can suggest passwords and autofill credit cards information. information.
Notification Improvements
The Notification Center has been overhauled and notifications have new functionality that includes cross-platform syncing with iOS.
Users can send replies directly within notifications for emails, FaceTime calls, and Messages. Messages, tweets, and emails can be drafted and sent from within the Notification Center without opening apps.

When waking from sleep, the Notification Center displays all alerts received on the login screen, and as with iOS 7, apps can automatically update in the background and send a notification when an update is complete. Do Not Disturb mode, an iOS feature, has been added to block notifications during scheduled times.
Known Issues
After the launch of Mavericks, there were widespread reports of users having issues with receiving messages, sorting messages into folders, and deleting messages. Apple issued a fix for the Mail problems on November 7 and bundled additional Mail improvements into OS X 10.9.1, which was released to the public on December 16.
Despite pushing fixes for the Mail app, many users are still seeing a variety of problems, including an error that prevents Mail from fetching new messages. Apple released a support document on the issue, instructing users to disconnect and reconnect their Mail accounts in order to force a refresh.
Western Digital has emailed its customers warning them about possible data loss issues when connecting external hard drives to Macs running OS X Mavericks. The company acknowledged that it was working on a fix for the data loss problems, warning customers not to use the WD Drive Manager, Raid Manager, and SmartWare software products with Mavericks and recommending uninstalling the apps before upgrading to the operating system. Updated software from Western Digital was released in late November.
In February, Apple released an iOS 7 update that fixed a significant SSL vulnerability in the operating system. It soon became clear that OS X 10.9 suffered from the same security flaw, leaving users vulnerable to a man-in-the-middle-attack.
The vulnerability could potentially allow an attacker to pose as a trusted website to intercept communications, acquiring sensitive information such as login credentials and passwords, or injecting harmful malware. Apple patched the vulnerability days later with OS X 10.9.2, which all OS X 10.9 users are urged to download immediately.
Mavericks Timeline