Six months after the Apple Watch launched, there are dozens if not hundreds of different third-party band options on the market, allowing users to customize their watches with looks beyond what Apple offers. Xistwear has created a line of stretchy stainless steel Apple Watch bands in a range of colors that look great with the Apple Watch and can be purchased for less than Apple's own metal bands, plus it offers matching bracelets.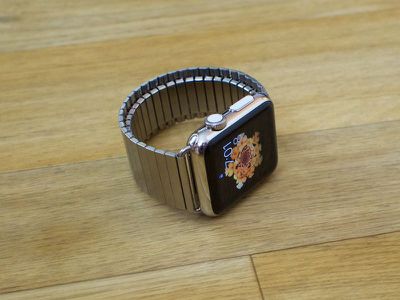 The Xistwear Apple Watch has a neutral look that's neither overly feminine or overly masculine, making it suitable for all wearers. Aesthetically, this is a simple but classic-looking link-style band that is understated enough to match well with a range of different outfits. All of the bands are stainless steel, but some have a colored plating. The following color options are available:
38mm - Black, Rose Gold, Silver, Yellow Gold
42mm - Gunmetal, Navy, Silver, Yellow Gold
Bands for the 42mm Apple Watch are 24mm wide, while bands designed for the smaller 38mm Apple Watch are 22mm wide. The 42mm bands are available in Small, Medium, Large, and Extra Large, able to fit wrists from 146mm to 210mm.


38mm bands are available in Extra Small, Small, Medium, and Large, to fit wrists from 130mm to 190mm. I have a wrist that's about 135mm, so I ordered the extra small, and it fits very well. All of the bands are actually elastic stretch bands, allowing them some wiggle room to fit on different-sized wrists. My band is snug on my wrist, but slips on easily and stretches if my wrist swells slightly during the day due to heat or exercise.




Xistwear recommends measuring a wrist with a measuring tape and matching the circumference to its size chart. While there are a wide range of wrist sizes covered, the company says to size up when in between sizes, because any jeweler is able to remove links from the watch band for a better fit.


The stretchiness of the band makes it comfortable to wear even for long periods of time, even during exercise and sleep, but it does have a tendency to get caught on hair and skin. I occasionally got my band stuck in my hair when putting it in a ponytail or brushing it, and while I don't have much arm hair, I imagine someone who does could have issues with this band. It also pinched my skin from time to time when I put it on, and every so often I got a mild pinch just during daily wear, but this was just a minor annoyance.


I appreciated the elastic band because it made the Apple Watch easy to get on and off and it eliminated the need for a buckle, which I've found gets in the way of typing and other tasks with other bands. The build quality on the watch was nice, but it did scratch easily. I wound up with several scratches on the underside of my band.


Xistwear's Apple Watch bands connect like most third-party bands, using adapters that slide into the slots on the Apple Watch. Xistwear's adapters snap into place perfectly, but you do need to get them lined up at just the right angle or they can be difficult to insert. They also make the Xistwear band slightly harder to remove than Apple's own bands, but not by much.


Color wise, the stainless steel adapters that shipped with the stainless steel Xistwear band I tested were a perfect match. The finish is the same and there's no color discrepancy between the Apple Watch and the adapter, which I was impressed with. I have other third-party Apple Watch bands and the finish is not always a good match.


Adapters that ship with the Xistwear bands only come in shiny stainless steel, so they're not going to match the aluminum Apple Watch Sport or the black stainless steel Apple Watch, which is a major downside. I expect most people won't want to wear a band with adapters that don't match their watch, so I would only recommend the Xistwear bands to those who don't have a stainless steel Apple Watch.
I did not test the Xistwear Apple Watch band with one of the accompanying bracelets, but I would caution against wearing anything that has the potential to rub against the Apple Watch, especially the stainless steel version. When I first got my Apple Watch I wore it with a small gold bracelet, which ended up scratching it quite badly. I'm not sure the Xistwear bracelets would do the same, but I'd recommend being careful with something that could result in damage.

Bottom Line
As someone with a smaller than average wrist size, I appreciated both the size options Xistwear offers and the stretchiness of the band. The Xistwear band fits my wrist a lot better than other bands, and the well-fitted band makes the Xistwear look nice on my wrist. I received quite a few compliments on my watch band during the time that I tested it.
The Xistwear is also comfortable for all-day wear because it stretches slightly, and even though I normally don't care for the feel of metal bands, the Xistwear never bothered me. At $125, the Xistwear isn't cheap, and I wasn't thrilled with the way it scratched from daily use.


That said, the scratches don't detract too much from the overall aesthetic, and I had few other complaints about the watch band. I would caution those with a lot of arm hair against the Xistwear, as the stretch band will catch hair in between the links.
Xistwear only ships these watches with stainless steel adapters, which means they're only really suitable for the stainless steel Apple Watch. If you have a black stainless steel Apple Watch or an Apple Watch Sport, I'd look elsewhere for a band.
Pros:
Can fit a wide range of wrist sizes well
Matching bracelets available
Well-fitted with elastic band
Adapters match well with stainless steel Apple Watch
Cons:
Adapters only come in shiny stainless steel
Scratches easily
Pinches hair and skin
Expensive
How to Buy
Xistwear's Apple Watch bands can be purchased from the Xistwear website for $125. The matching bracelets are priced at $60. From now until October 9, customers can get a 20 percent off discount on purchases using the code XISTOS2.
Note: MacRumors received no compensation for this review.