Launched as an Indiegogo project in the middle of last year, the TrackR Bravo is a follow up product to the StickR TrackR, a small coin-sized Bluetooth-enabled device designed to attach to valuable items so they can be located using the TrackR app.
As of today, the TrackR Bravo, which is smaller and lighter than the company's previous-generation products, has begun shipping out to customers. Like the original TrackR products, the TrackR Bravo attaches to items and gives out alerts via an iPhone app when an item is misplaced, preventing keys, cameras, and other small objects from being lost.
Ahead of the product's launch, TrackR sent
MacRumors
a TrackR Bravo to review, so read on to see how it works and what we thought of it.
Design
The TrackR Bravo is slightly larger than a quarter, and approximately as large as two quarters stacked on top of each other. It is circular in shape, with a small loop at the top that allows it to be attached to a keyring for fastening to keys, pet collars, and more.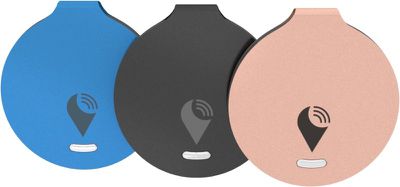 It has a colorful anodized aluminum housing, and it's small enough to fit comfortably in a purse, wallet, or camera bag.

How it Works
The TrackR Bravo has built-in Bluetooth 4.0, with a 100 foot range. It works in conjunction with the TrackR app, which can be downloaded for free from the App Store.
After registering for a TrackR account within the app, the TrackR Bravo can be activated by choosing "Add a New Device" and pressing the Bluetooth activation button on the TrackR. The app supports 10 different TrackR Bravo devices, so multiple items can be tracked at the same time.

To continually track devices, the TrackR app requires the iPhone's Bluetooth to be turned on and the app to be running in the background.
Within the app, there's a map that displays where the TrackR Bravo is located, a distance range that lets you know how far away the item is, and a button that activates a sound to help you find the item. The sound isn't very loud, so you will need to be fairly close to the TrackR to hear it. You may not hear it a few rooms away, for example, but it will be audible when in the same room.


If you tap the button on the TrackR Bravo itself, it will play a noise within the app, which can also help locate a lost phone. When using this feature, it often took several presses to get the sound to activate, but it did work reliably.
The TrackR Bravo is supposed to have a 100 foot range, but we found that the available range was much less than that. It does show the last known location of an item though, and when the iPhone gets close enough to the TrackR, it will pick up the Bluetooth signal again.
For example, with the iPhone in a bedroom and the TrackR Bravo in a living room approximately 40 feet away, signal between the two devices was lost so a sound was unable to be played. We had to approach the living room again for the iPhone to connect again, so when looking for a lost TrackR item within a large house, you will still need to do quite a bit of roaming.
At times, it also took awhile for the two devices to pair back up when a connection was broken, making it take longer to find lost items. There were also instances when it refused to re-pair all together until we exited the app and reopened it with the TrackR nearby.
The company advertises a Crowd GPS network that's designed to help you find items that are out of Bluetooth range by using the iPhones of other people who also have the TrackR app installed, but we were not able to test this feature as no one with the TrackR app walked near our "lost" TrackR Bravo.
There are settings within the app to turn on alerts for when the TrackR Bravo and the iPhone become separated. This will cause the TrackR's sound to go off when you walk away and it can also set off a notification sound on the phone. This is perhaps one of the most useful features of the TrackR, because it can be used to make sure you don't leave the house without an important item or forget an item at a restaurant.


WiFi Safe Zones can be set up so you don't receive alerts when your phone is connected to home WiFi, and the TrackR Bravo is also able to integrate with the Nest thermostat to control device alerts when at home.
The TrackR Bravo has a one year battery life with a replaceable CR1616 battery. It is water resistant, but there's an option to purchase an accessory pack for a waterproof enclosure.

Who's It For?
If you often misplace small items like keys and wallets within your home, the TrackR Bravo may be a useful tool. It's also potentially useful to prevent you from leaving valuable items behind when leaving a restaurant or other location, due to the alarms that go off when a Bluetooth connection is lost.
The range on the TrackR Bravo is short, so it can't be used like some GPS-enabled trackers that help you keep an eye on things like luggage over long distances, but it is suitable for use within a home.
Pros:
Fits anywhere
App is easy to use
Cons:
Short range
Sound isn't loud enough
Bluetooth connection unreliable at times
Compatibility
The TrackR Bravo works with the iPhone 4s and later and the third-generation iPad and later.

How to Buy
The TrackR Bravo can be purchased from the TrackR website for $29.99.