Created by Ten One Design, the Blockhead is a simple plug designed to rotate the orientation of the MacBook or iPad Power Adapter so it rests flush against a wall or power strip when it's plugged in.
There are, occasionally, some products that are so simple and intuitive that you look at them and wonder why they didn't already exist -- the Blockhead is one of those products. Made from blue plastic, the Blockhead replaces the snap-in plug portion of the official chargers for Apple's lineup of MacBooks and iPads.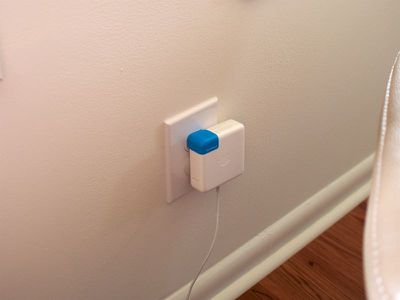 There's not a lot to say about the design of the Blockhead. It's similar to the official AC wall adapter that can be snapped out of a MacBook or iPad Power Adapter, but its plugs are oriented in a different direction. Made of an attractive blue ABS plastic instead of white plastic, the Blockhead is otherwise functionally identical to Apple's own power adapter bits.




The Blockhead, which is UL-approved, fits flush into the Power Adapter, but the fit isn't quite as exact as the original adapter it replaces. The Blockhead sticks out slightly on the backside, but this is only noticeable when holding it and it doesn't affect the functionality of the accessory. It works in the United States and Canada and fits in any socket able to accommodate a NEMA 1-15 plug with two parallel blades.


When plugged into an outlet, a Power Adapter with the Blockhead measures in at 1.2 inches thick, compared to the 3.8 inches a Power Adapter takes up with the standard Apple hardware installed. Two Blockheads can also be used side-by-side in a single two-socket outlet, with one positioned upside down and one positioned right side up.


The Blockhead fits into outlets in a more logical way, and something I noticed was a tighter fit in outlets that have become looser over time. Even in an outlet where orientation wasn't an issue, I was less likely to accidentally pull the Power Adapter out of the wall with the Blockhead attached, and I was also less likely to accidentally bump into it.


According to Ten One, the design of the Blockhead can protect against cord stress because it puts less tension on the plug, which makes sense because it changes the positioning of the cord to be closer to the ground. I've never damaged my cord near the Power Adapter because of stress, but I imagine this has the potential to be useful to some people who have run into trouble.


One clear negative to the Blockhead is non-retractable plugs. With the standard Apple adapter, the plugs can be folded inwards to make it more convenient for travel, but the Blockhead doesn't work that way. It's a small inconvenience, but an inconvenience nonetheless.


The Blockhead works with all MacBook chargers designed for the Retina MacBook, MacBook Air, and MacBook Pro, along with 10 and 12-watt chargers designed for the iPad. It fit well in each of the 13 and 15-inch Retina MacBook Pro and iPad Pro/iPad Air chargers I tested it with.
During the month and a half that I tested the Blockhead, I had no problems with heat, durability, or design, and ran into no issues that would prevent me from recommending it to anyone who wants to orient their MacBook or iPad charger in another direction when charging.

Bottom Line
If you have an outlet located behind furniture or in an area where a MacBook charger that sticks out of the wall is inconvenient, the Blockhead is well worth the purchase price. It's $19.99, which sounds expensive for a piece of plastic, but it definitely improves the functionality of Apple's Power Adapters for those who need it.
After using the Blockhead, I find myself wondering why Apple designs the Power Adapters to stick out from the wall. I prefer the look of a Power Adapter that sits flush with the wall, even in situations where my outlet isn't blocked by furniture. It's a cleaner design that makes more sense than a sideways-facing Power Adapter. Of course, it's not symmetrical with the power outlet, which is one reason why the Apple design is superior, and it may not fit as well into a power strip.


The flat positioning of a Power Adapter equipped with the Blockhead has prevented me from accidentally pulling the adapter out of the wall by tugging on it or knocking it out accidentally when walking by, something that came in handy even when I didn't need to fit my Power Adapter in a tight space. It was also more stable in outlets that are somewhat loose due to the weight distribution.
Given that most people use their MacBooks and Power Adapters for several years, $19.99 is a small price to pay for additional convenience.
Pros:
Weight distribution makes it fit better in loose outlets
Allows the Power Adapter to fit in tighter spaces
Prevents Power Adapter from being knocked out of an outlet
Saves space
Better aesthetic appeal than standard adapter
Cons:
Prongs are not collapsible for portability
Fit is not as flush as standard Apple adapter piece
How to Buy
The Blockhead can be purchased from the Ten One Design website for $19.95. Two Blockheads are also available for a discounted price of $34.94 At the current time, the Blockhead is only certified for use in the U.S. and Canada, but Ten One is exploring a potential expansion to additional countries.
Note: Ten One Design provided a Blockhead to MacRumors free of charge for the purposes of this review. No other compensation was received.