I've never been a fan of magnetized iPhone mounts in cars because they require special iPhone cases that stick to the base of the mount to keep the smartphone in place. Since I enjoy using Apple's own leather and silicone cases, I haven't had the urge to ditch a case for one that would be compatible with a car mount.
Although Scosche's Magic Mount Pro Charge still requires a few unruly magnetic accessories to use, it's come close to convincing me that I need to make a few concessions so that I can get the advantages of hands-free iPhone use in my car. The Magic Mount also doubles as a Qi-enabled charging platform, so it will work with any compatible smartphone or case.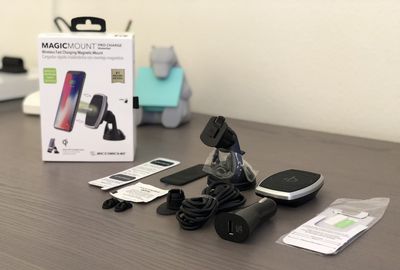 The Magic Mount comes with two options for installation: a suction cup with an extended reach (for the upper dash board or lower windshield) and a shorter arm with a sticky pad (for the infotainment center area). The initial unboxing and setup for the Magic Mount is a bit overwhelming, with nearly a dozen different parts and accessories making up the process: a metal case mount, metal smartphone mount, wire clip cable organizers, suction mount, sticky mount, charging pad, 12V car power adapter, micro-USB to USB charging cable, and even cleaning wipe to prepare the intended area for the mount.
The charging pad itself attaches easily to the two mount attachments with a ball and screw "tension collar" system. You then can attach the micro-USB cable into the charging pad, and feed the cord into the car adapter to enable wireless charging when you place your phone on the pad. As a note, Scosche also provided me with a separate fast car charger, which features both a USB-C and USB-A port to charge two devices simultaneously. I found both this car charger and the charger included with the Magic Mount (which has just a single USB-A connection) to be reliable throughout my testing period.

Attaching the mounts to an iPhone or case (left, middle), and the finished product (right)
For the metal mounts, you have to choose between placing them directly on your smartphone or on a case. For obvious reasons I didn't want to attach a large black metal pad to the back of my iPhone X (Scosche does promise this is completely safe), so I opted for the case option. This includes placing two smaller metal rectangles on the back of a case of your choosing, which will help magnetize the iPhone to the charging pad and enable Qi charging through compatible cases (which are pretty much any thin iPhone cases, including all of Apple's first party leather and silicone options).
The installation process for the metal strips was easy enough, since Scosche provides a helpful paper guide with arrows that point you where to place the strips depending on the size of your iPhone or Android phone. Once you have the alignment right, you remove a film on the back of the measurement tool, press hard to attach the metal pieces, and when it's removed your case will have two new pads permanently attached to the back. The process appears largely the same for attaching directly to an iPhone.




For the actual Magic Mount, I started by trying to install the suction mount on my car's upper dashboard, but here the suction never quite stuck to the surface (which I sufficiently cleaned and dried beforehand). The only place I could get the suction mount to consistently stay attached was my windshield, but there are a few reasons why I didn't like this placement.
For one, Louisiana is one of just over 20 states where placing suction mounts on windshields is considered illegal, although some states have wishy-washy exceptions to the rule, like placing the mount in specific quadrants of the windshield that won't directly obscure view. When I had it placed directly to the lower right hand corner of my driving view, I always felt like the mount and my iPhone were a bit too dominant in my field of vision to drive comfortably for extended periods of time.


Secondly, I didn't see the advantage of my iPhone in this position, since it was too far away to provide me with at-a-glance information, quick and safe UI controls, or to accept Face ID unlocks. Cable management also becomes an issue the farther away the Magic Mount is from a nearby charging input in your car, and for my lower windshield at least it meant a bit of an unruly situation that even the two included cable management attachments couldn't do much to solve.
For these reasons, I found my preferred placement for the Magic Mount to be directly next to my car's touch screen using the low-profile sticky mount option. This of course means that the accessory is now permanently stuck to my car's middle dashboard, but it feels right in this position. It sits next to my steering wheel so I can easily tab the pick up/hang up controls on my iPhone and route a call to my car's connected Bluetooth system, use the skip track buttons in Apple Music, and glance over quickly for Face ID unlocks. The tension collar makes it simple to add a bit extra tightness or looseness to the gimbal system, and find the perfect angle.


As a note, I drive a 2011 Volkswagen Tiguan with no CarPlay features. So while the Magic Mount solved a problem I didn't really have in some categories (phone controls do appear via Bluetooth on the Tiguan's touch screen), in others areas it definitely helped me out (particularly with safer and easier-to-access Apple Music controls). Cable management was also much less of a headache when using the low-profile mount, because it was closer to my car charger and just above a little nook in my dashboard that easily stashed and hid nearly all of the cord.


In terms of charging, ever since I upgraded from an iPhone 6s Plus to the iPhone X, I haven't needed to worry about charging my iPhone during trips in my car. Because of this, a major feature of the Magic Mount feels a bit superfluous in my day-to-day use of the accessory, but from what I've experienced Scosche's mount is a solid Qi-compatible charger. The company sells the same charging pad in the form of a vent charger, but I didn't have the chance to test this one out.


My iPhone X recognizes the charge status immediately when placed on the Magic Mount, and there were no weird hiccups with the iPhone suddenly ceasing to charge or the Magic Mount otherwise failing. Magic Mount supports up to 10W fast charging for Samsung and up to 7.5W for Apple's fast charging on iPhone 8 and newer. I tested the Magic Mount on a Saturday when I was using my iPhone to navigate and otherwise on it normally while shopping and eating, and Scosche's charger fueled it up reliably in between locations. I didn't have a chance to test it out on a lengthy road trip, but I did leave my iPhone on the Magic Mount near my bed one night and it was topped off as expected the next morning.
With the low-profile base attached in my car, I took the suction cup base and attached it to my desk to test out another out-of-the-car scenario, and this is where I found the most use out of Magic Mount on a daily basis, but I still had issues with the suction cup. Sometimes it would attach to a clean, flat surface and remain stuck for a few minutes before falling over, and other times it would remain attached for hours until I physically removed it.


Scosche's literature doesn't mention anything about removing and reapplying the suction cup numerous times, but the mechanic of removing the base is straightforward enough that the design appears to be encouraging that behavior. Overall, I had the most success on glass and unmarked, flat wood surfaces, so I wouldn't reccomend this feature of the Magic Mount for any kind of curved platforms.

Bottom Line
Overall I enjoyed my time with the Scosche Magic Mount Pro Charge. The magnetic attachment between iPhone and mount is super reliable, even on bumpy car rides; the sticky mount adheres quickly and easily; and the Qi pad is as solid as any other I've used since I got my iPhone X.


I'd say the biggest downside is the necessity of needing to have two large black metal pads on the back of potentially a favorite iPhone case (or iPhone itself if you go that route). Users with black iPhone cases will probably fare better because of this. The metal pieces also raise the iPhone slightly off of a surface when it's resting and make it a bit wobbly. The other big downside was the suction cup, which wasn't as dependable in my car as I wanted.
Despite these problems, I still recommend the Scosche Magic Mount Pro Charge if you're on the hunt for a Qi-compatible car charger, particularly if you want to attach it to a safe area on your windshield or near the infotainment center of your car. Scosche sells the mount for $59.99 on its website, and the PowerVolt 3.0 car charger is also available for $24.99.
Note: Scosche provided MacRumors with a Magic Mount Pro Charge and PowerVolt 3.0 for this review. No other compensation was received.