Earlier this month, smart bike helmet Lumos debuted at Apple retail stores and online, leveraging technology to help make your ride safer. Outfitted with a total of 48 LEDs on the front and back in red, white, and yellow, the Lumos helmet significantly increases your visibility to drivers and pedestrians while also allowing you to signal upcoming turns.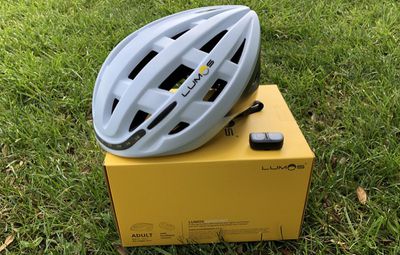 Since its Kickstarter launch, Lumos has supported bike helmet turn signals using a two-button remote mounted on the handlebars, lighting up yellow LEDs on the corresponding side of the helmet at the front and rear. A brand-new feature adds Apple Watch gesture support, letting you calibrate the system to detect bicycle arm signals based on watch orientation and automatically turn on the left or right signals on the helmet accordingly.
My wife Laura is an avid cyclist, so she was a good test subject for the Lumos helmet, which she has taken out on several group rides over the past few weeks. She came away impressed with some of the helmet's features and the comforting feeling of being more visible as it became darker in the evening, but other aspects still need some tweaking.

Installation
Mounting the turn signal remote is a relatively simple affair, using a pair of rubber rings to wrap around the handlebars and secure the remote base, and then the remote itself simply twists onto the base to lock it in. It's an easy installation process that fits a variety of handlebar diameters, although if you've already got a headlight and bike computer mounted on your handlebars you might find yourself running out of room to mount the Lumos remote.

Remote base attached on left side of handlebars
In fact, given the other items already on her handlebars, Laura's only option was to mount the remote base on her grip tape, which made securing it a bit tricky with the uneven and somewhat squishy surface. She would have preferred some sort of stem mounting option to keep it within easy reach on her crowded handlebars. But depending on the style of bike you ride and the accessories you have, the crowding may not be an issue for you.

Remote attached to base
Crowding issues aside, the simple installation process is a benefit for commuter cyclists in particular, making it easy to take the remote with you so that it doesn't get stolen from your parked bike. The remote also needs to be recharged periodically, so easy installation and removal are key.
Getting on the Road and Signaling
Pairing everything up is also simple, just holding some buttons on the helmet and remote and coordinating with the iPhone app and then you're good to go. It's easy to use the remote to signal left and right turns, with large, easy-to-press buttons that light up while a turn is being signaled, although you do have to manually press the button again to turn off the signaling.
Gesture-based Apple Watch signaling should make life significantly easier while also encouraging riders to use arm signals that help make drivers aware of upcoming movements, although Laura had a bit of trouble getting it to work consistently at first. There is a calibration process that walks you through holding your left arm straight out to signal a left turn and then pointed upward to signal a right turn.

Yellow lights in chevron shape flash when signaling a left turn
The calibration process is quick, requiring you to hold your arm in a neutral position on the handlebars and then while signaling left and right, but once she was out on the road for her first ride, Laura found that gesture recognition was rather finicky. Initially, it would register only one direction, and after she stopped and recalibrated only the other direction would register. Several recalibrations during that ride failed to result in consistent signaling.
On her second ride, however, she apparently found a sweet spot in the calibration, as it was much more consistent in recognizing her arm movements and properly signaling. On the downside, limitations in the movements the watch's accelerometer can detect did result in some unintended signaling. Waving to a friend or even scratching her nose activated the turn signals, and with your hands frequently moving around on the bike to adjust grip, wipe away sweat, or grab a drink of water, it's easy to unintentionally activate the turn signals.
When using the Apple Watch to initiate turn signals on Lumos, you have to shake your wrist to turn off the signal once you've completed your turn, and Laura found that she had to shake rather vigorously to get the signals to turn off.
The helmet also beeps while the turn signal is activated, which gives you some important feedback considering you can't see the lights on your head. The beeping is clearly audible to others around you, which can be a benefit or annoying depending on your environment and your biking companions, although you can adjust the frequency of the beeping.
The beeping is also nondirectional, as it comes from the main electronics center in the rear of the helmet. It would be nice if Lumos had a speaker on each side near your ears to give you audible confirmation of which signal is flashing. At the very least, different beeping tones or patterns for each direction would be helpful.
It would also be nice if the remote and Apple Watch worked better together, such as allowing either one to deactivate the turn signal regardless of which method was used to activate it, or having the appropriate button on the remote flash when the signal has been activated via Apple Watch. As it stands, the two methods of triggering the turn signal work essentially independently.
One interesting benefit to using Lumos is that it encourages more consistent use of arm signals in general. With many riders not adequately signaling their turning intentions, tying those signals into the watch on your wrist and your helmet gives you extra motivation to use those arm signals. Some of that is undoubtedly a novelty effect that will wear off with regular usage, but it still provides a bit of incentive to signal.

Lighting Modes
Lumos offers three distinct lighting modes, steady, rapid flash, and slow flash. Which one you use is largely personal preference based which one you believe will make you most visible, but it's worth noting that the helmet's battery will last significantly longer if you use one of the flashing modes rather than steady mode. Switching between modes is accomplished by short presses on the single power button at the rear of the helmet. It's easy to do unless the helmet is on your head, so make sure you decide which mode you want before you start riding, or else pull over to a safe place to change it. For the most part, however, it's simply going to be "set it and forget it" at the beginning of your ride.

Rear lights at dusk
Laura felt that all three modes were sufficiently bright, offering a comforting feeling that she could be easily seen on the road, particularly as it started to get darker out in the evening. The lights appeared roughly as bright as the taillight she uses on her road bike, although Lumos advises that the helmet should not be used as a substitute for mounted bike lights.
The front helmet lights in particular are only intended to make you more visible, and you're still going to want a more focused headlight for your bike to help you see where you're going and make you even more visible at dusk or at night.

Front lights in daylight
As with regular bike lights, Lumos really won't do much for you during the day, particularly in bright sunlight.
Braking
Lumos has rolled out a new beta feature that illuminates extra red lights on the rear of the helmet to signal that you're coming to a stop. The feature is intended to automatically sense hard braking using an accelerometer inside the remote control.
Unfortunately, Laura was unable to get the feature to activate properly during her on-road testing. The feature seemed to work in simulated stopping scenarios holding the remote in the hand off the bike, and it briefly worked during some testing on the bike when the helmet stopped registering gestures from her Apple Watch, so maybe there was some conflict between the watch and the remote. Hopefully this is something Lumos can continue to refine to make it perform more consistently, and as noted it is still considered a beta feature.

App Tracking
The Lumos iPhone app includes a variety of features, including battery status of the helmet and remote, as well as advanced tracking for your rides. With GPS tracking, the Lumos app will map your rides and break down various statistics like calories burned, watts generated, and more.


The app can also be set to automatically start tracking when the helmet senses you've begun riding, so you can't forget to hit the start button on your tracking. Lumos also supports Strava and Apple Health, making it easy to integrate with your other exercise and health tracking.

Battery Life
Lumos says the battery on the helmet last about six hours in flashing mode or about three hours in steady mode. That's pretty accurate based on Laura's testing, which saw a fully charged helmet drop to 46 percent at the end of a ride that lasted about an hour and 45 minutes with the helmet in steady lighted mode. The remote should last anywhere from a week to a month on a single charge, depending on use.
Both the helmet and the handlebar remote charge using a USB-A cable with a proprietary magnetic connector on the other end. The connector allows for low-profile ports on the helmet and remote, but the magnetic connection isn't the strongest. On the helmet in particular, Laura had to be very careful to make sure it was connected properly and then be extremely gentle when moving the helmet at all during charging to prevent the cable from coming loose. Fully charging the helmet takes a couple of hours, while the remote is a bit faster.

Wrap-up
A decent bike helmet can cost $100 or more, and lights for your bike quickly add up as well, so $180 for a helmet with a bright array of lighting mounted high on your front and back doesn't seem out of line, not to mention the added safety factor of turn signals and potentially brake lights. If you don't need the turn signals and brake light capabilities, Lumos offers a cheaper "Lite" version of the helmet for $140 that only has the front and rear lights for visibility.
The regular Lumos helmet is offered in Pearl White, Charcoal Black, and Cobalt Blue, while the Lite version is available in Polar White and Charcoal Black. The regular and Lite versions are also available through Amazon.
Lumos has also just launched pre-orders for a version that includes the increasingly popular MIPS technology that can lessen forces experienced in certain types of impacts. The MIPS Lumos helmet in black will begin shipping in mid-July and is available for pre-order at a discounted price of $199.99, down from the regular $219.99 pricing.
Laura was impressed with the fit of Lumos, as she frequently has trouble finding helmets that fit well and that was certainly not the case with Lumos, even though it's designed as a one-size-fits-all helmet for head sizes of 54–62 cm (21.3–24.4 inches).
Lumos is really aimed at commuter cyclists, where frequent turns in congested urban environments and relatively short rides are the norm. It's a bit less useful for road cyclists who take fewer turns and for whom longer rides might exceed the battery life of the helmet, although those rides are typically in daylight when lights are less important. Even for road cyclists, the bright lights mounted on your head offer great visibility to vehicles around you, and it's comforting to know the most important part of your body is most visible.
There are a few quirks with Lumos, most of which should be able to be fixed via software updates, so hopefully Lumos will continue to refine performance based on user feedback and data collected from testing.
Even with those quirks, the safety factor Lumos brings is a tremendous benefit that makes the helmet worth considering, and the Apple Watch turn signal gestures are a clever way to make the technology integration feel more natural. Overall though, Lumos does seem to require a decent bit of fiddling to keep things working properly, which might be okay if you're into the latest tech gadgetry, but if you just want to hop on your bike and go, you might not get as much fun out of it.
Note: Lumos provided the bike helmet to MacRumors free of charge for the purposes of this review. No other compensation was received. MacRumors is an affiliate partner with Amazon and may earn commissions on purchases made through links in this article.