Skin care company La Roche-Posay (owned by L'Oreal) recently released its first tech product, a UV sensor that's designed to tell you how much sun exposure you're getting on any given day.
The My Skin Track UV Sensor, available from Apple, is meant to help you make sure you have adequate sun protection for long days spent in the sun. It's tiny, solar powered, and transfers data over NFC, so there's no battery and no need for charging.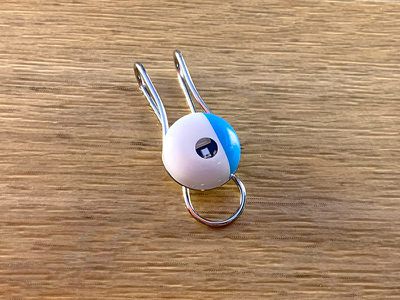 The Skin Track UV Sensor sounds great in theory, but there are some design flaws and issues that I discovered over the course of several months of testing, which I've outlined below.

Design
The My Skin Track UV Sensor ships in two pieces. There's the blue and white plastic sensor portion, and a metal clip designed to fit on a sleeve, shirt collar, or cap where it can be exposed to the sun.
The sensor slides into the metal clip, which can be a little bit tricky. I'm not sure why it's shipped in two pieces because there isn't ever a need to take it out of the clip, but maybe La-Roche Posay is planning to release different enclosures in the future.


Size wise, the Skin Track Sensor is tiny. It's about the same size as my thumb nail, and I have a small thumb. There's a little window on the sensor that houses the UV detecting equipment and an NFC chip, with the window designed to let in light for tracking purposes.




As mentioned above, the clip is meant to be attached to an item of clothing that's regularly in the sun, but the clip is imperfect. You can put it on a shirt sleeve, collar, hat, or elsewhere, but there's no closure at the back so it's very easy for it to slip off.
For a while, I was wearing it on my Apple Watch band, but it kept sliding off. I tried it on my sleeve, but that was worse, and so was the collar of my shirt. There were times when I lost the sensor for a few hours in the house, and if I hadn't been super vigilant about keeping an eye on it when outdoors, I definitely would have lost it.


It's really prone to falling off, and I can't stress that enough. I'm not sure anyone is going to be able to keep this thing for any length of time because of that clip design, so if you get one of these, try to find some way to secure the end so it's not going to be gone forever if it slips off.
My ultimate solution was putting it on the thick handle of my backpack where it was such a tight fit that it couldn't slide off. When I'm out, I usually have my backpack with me, so this was an okay solution for me. That wouldn't work for running, visiting the beach, workouts, or any other similar activity, though.


I don't think there's anywhere else I could reasonably put it without losing it, and I think it's amazing that I've managed to keep it without losing it so far.

Functionality
I've been testing the My Skin Track sensor off and on since November, in the California Bay Area, Washington DC, and in Europe, all places where it's been rather cloudy and rainy.
The My Skin Track sensor says that it tracks both UVA and UVB rays and the FAQ says it doesn't need direct sunlight, but so far, I haven't really been able to get it to register UV exposure when it's not right in the sun.
I'm confused by this, because my dermatologist and everything I read online tells me to wear sunscreen even not in direct sun because you're still being exposed to UV light even on cloudy days and in indirect light, but when it comes to tracking this kind of UV exposure, the My Skin Track sensor doesn't seem to work well.


I know that it's functional in general because it will accurately detect UV light exposure when in direct sunlight, but I have literally left it outside all day in indirect lighting (where it is outside but not in a direct beam of sunlight) and nothing. I've worn it on cloudy or partly cloudy days and gotten zero UV readings, even when the UV index was above 1.
When the sensor is in direct sunlight, it works well and is able to let me know that I'm in the sun, though I mean, I sort of already know that and I'm already aware I shouldn't be there long and should be wearing sunscreen.


If you're someone prone to forgetting about sunscreen and not paying attention to sun exposure when in direct sunlight, the sensor will let you know how much of your "max sun-stock" you get in a day, and at 75%, it's supposed to be a warning to get out of the sun or protect yourself.


The max sun-stock is supposed to be the recommended maximum daily allowance of UV based on skin tone and the UV index, but dermatologists, doctors, and skin cancer experts recommend using sunscreen all of the time regardless of these factors so I'm never entirely sure what to do with the max sun-stock reading.
Because there's no battery in the My Skin Track sensor, there's no way for it to send data automatically. To transfer collected data from the sensor to your phone, you need to use NFC. Using NFC requires an NFC-compatible iPhone, and you need to hold the sensor near the NFC chip in the device for a few seconds to transfer data.


La-Roche Posay recommends transferring data once a day when you're not spending much time in the sun, and at least twice a day when you are. Having to manually transfer data is definitely not ideal because by the time you transfer it over and check your sunstock reading, you've likely already been out in the sun for more than the maximum recommended time.
I don't know about other people, but when I'm out having fun at the beach or wherever else I might be exposed to sunlight, I'm not checking in on my ‌iPhone‌ to NFC scan my sun tracking sensor very often. Because there's no automatic data retrieval, there are no warning notifications of any kind, which is of limited use.

App
The My Skin Track app offers a daily reading of your total UV exposure (also known as the max sun-stock), the current UV index for your location, the temperature and humidity, air quality level, and pollen index.
With the exception of the UV reading, all of the data is location based and gathered from reading your current location.


A trends section lets you see UV exposure over the day, week, month, and year, along with average readings for air quality, temperature, humidity, and pollen index.
There are skin advice readings, which provide La-Roche Posay product recommendations based on your skin type, which you input. I have a lot of allergies, so mine recommends gentle cleansers, hydrating moisturizers, and products without alcohol and fragrance. It's basically an advertising section for La-Roche Posay skincare.


You can log activities in the La-Roche Posay app to time them with the UV readings of how much time you're spending in the sun during a specific activity. This is useful, but all data needs to be entered manually. You need to open the app to start the activity, scan the sensor, and then end the activity when you're done and scan again.
This activity list is also a little bit odd. Bocce ball, gardening, and kayaking are listed as options, with other more obvious activities like biking left out.

Bottom Line
I'm a little bit obsessed with staying out of the sun, so I wanted to like the My Skin Track UV sensor, but using it was more of a hassle than it was worth. I was always paranoid about losing it because the design makes it prone to slipping off whatever it's attached to, and I was disappointed that it didn't seem to capture the full range of my UV exposure.
It worked well in the sunlight, but when it came to indirect or diffuse lighting (like on a partly cloudy day), nothing was picked up on most days, leaving me questioning the accuracy of the device. When I'm already in full direct sun, I generally know that I should have sunscreen on and limit sun exposure, and I think most people are in a similar situation.
It would be more useful as a direct sunlight monitor if it could send push notifications when a threshold had been reached, but it can't, because data needs to be transferred manually over NFC. Measuring sunlight exposure after the fact doesn't seem particularly useful, and interrupting an activity to scan an NFC chip seems like something people will forget to comply with.
I think for people who don't regularly wear sunscreen and who do a lot of out in the sun outdoor activities, this has the potential to be useful in its current incarnation for providing a picture of overall sun exposure over time, but anyone considering a purchase should be aware of its limitations.
Most people are probably going to benefit more from taking the $60 that would have been spent on this UV sensor, buying a bunch of sunscreen, and wearing it every day.

Where to Buy
You can buy the La Roche-Posay My Skin Track UV Sensor from the Apple online store or in Apple retail stores for $59.95.