Knomo's Elektronista Digital Clutch is a bag that was created through a partnership with Danish tech blogger Christiane Vejlø, who founded Danish gadget site Elektronista. The Knomo Elektronista is designed to be both functional and fashionable, serving as clutch or a crossbody bag that can hold a wide range of gadgets and iOS devices, keeping them all organized in its myriad pockets.
The Elektronista is available in four colors: Blush, which is a pink shade, Grey, Black, and Navy. I've been using the Grey version for the last several weeks, and it's quickly become one of my favorite small gadget bags. The Elektronista is made from a full grain leather that's soft to the touch and the construction is flawless with not a stitch out of place, as I would expect from a high-end bag. It has gold hardware, including gold zippers and a removable strap that attaches to the back.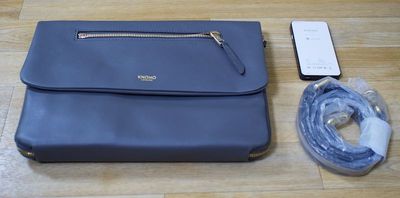 At $295, the Elektronista is one of the pricier bags that Knomo sells, but the company justifies that price tag with the bag's solid construction, huge number of custom pockets, and perks like a built-in 3,000mAh battery. It unzips at the sides so it can be used at a desk as an organizer for electronic devices and other odds and ends, and then it zips back up so it can be used as a daily purse with a magnetic front flap that keeps the contents protected.


The unzipping feature also serves as a way for the interior storage to be accessed quickly, which is handy when you need to get at something fast. The pockets inside the Elektronista are all accessible when the purse is zipped up, but with so many different pockets, it can be hard to find things inside. It can also be difficult to access some of the lower pockets, such as the little change holder, when you're in a hurry.


The Elektronista is essentially all pockets. At the exterior of the purse, there's a pocket in the back, where I chose to keep my cell phone for quick access, and a zippered pocket on the front flap where I kept other things I needed to access frequently. For me, this was eye drops and chapstick.




Inside, there's a pocket that will hold a tablet up to the size of an iPad Air 2. My iPad Air 2 fit inside comfortably, but I had a major complaint with this pocket - there's no padding. There's nothing but a layer of cloth and a layer of leather protecting the iPad, which is probably enough most of the time, but I wouldn't want to drop the Elektronista or step on it with my iPad inside.


In addition to the iPad Air 2 pocket, there's another large pocket that can hold a notebook, an iPad mini, or other odds and ends, and below that, are three smaller pockets, two of which are sized to hold an iPhone 6s Plus and one that's smaller for cables. The smaller pocket has an elastic band that holds the included iPhone battery in place.


Speaking of the battery, it's 3,000 mAh, which isn't going to be enough to charge an iPhone 6s Plus or iPad to full, but it will give you power in a pinch. If you have an iPhone 6s, the included battery will be able to charge it from dead to full capacity.
On the other side of the bag, there's a wide zippered mesh pocket, four card slots for holding an ID, credit cards, and cash, and a snap-in coin pouch that closes with another snap. I wasn't thrilled with the placement of the credit card slots - they're so close to the top of the purse that I was worried they'd be easily stolen or would fall out. I tended to use only the lower card slots for this reason and later abandoned them all together. At the very bottom of the bag, there's a pen holder, but this is really only accessible when it's unzipped and being used as an organizer.


For people who need access to multiple devices, the Elektronista provides a lot of storage. I could fit an iPad Air 2, an iPad mini, an iPhone 6 Plus, an iPhone 6s Plus, my Verizon hotspot, and a Nintendo 3DS XL in the various pockets, with room to spare for small bits like cords, a pack of gum, a comb, and other small bits I generally carry around with me. Obviously I don't travel with all of my electronics on a daily basis, but if I need to, there's room.
Though there are a lot of pockets, the Elektronista is a thin bag. This isn't a purse that's meant for people who like to carry around a ton of stuff (something I'm guilty of) because aside from the pockets, there's not much interior space. For example, while it can hold a small point and shoot camera in its various pockets, neither my micro four thirds camera (an Olympus E-P5) or my DSLR (a Nikon) will fit comfortably. I can squeeze my Olympus into the main body of the purse (not in one of the pockets) if I try, but it deforms the bag.


Luckily because it's thin, the Elektronista is an ideal size to stick into a tote bag or into a backpack as an organizer. This was actually my favorite way to use it. The strap unhooks so it can be used as a standalone clutch or organizer and it fit nicely in my Fjallraven Kanken, my current backpack of choice when I travel and need to carry a lot of stuff. Using it as an electronics organizer in a larger bag that also doubles as a smaller bag when needed turned out to be a great use case for the Elektronista.
By the way, when it comes to the strap, I wasn't a fan. It's made from a thin leather that simply wasn't comfortable with a lot of stuff in the bag after a long day of wearing it, and it felt a bit too long. I'm short at 5' 2" and though the strap is adjustable, it was still a bit too long if I wanted to wear the Elektronista on a shoulder instead of crossbody. There was also no way to tuck in the hanging piece of the strap that's leftover after an adjustment. It didn't get in the way, but aesthetically, I didn't care for the look of an extra bit of floppy strap.


Each Knomo Elektronista bag comes with a unique ID and a built-in ID tag that consists of a website address where anyone who finds the bag can go to locate the owner, which is a nice touch. The Elektronista can be registered via the Knomo website to link the bag with an owner.

Bottom Line
There are a lot of high quality laptop and gadget bags on the market, from companies like Pad & Quill and Waterfield Designs, but many of these bags are primarily aimed at men and can't double as an every day purse. Speaking as a female who owns a lot of Apple devices, it's nice to have an option like the Elektronista, which is slim enough for every day use, stylish and versatile enough to meet a lot of different use cases, and still holds almost everything I might need.


When I need to travel light, with my iPad Air 2, my iPhone, headphones, cash, credit cards, and a few other odds and ends, the Elektronista serves me well. When I need to carry more, I'm still able to use the Elektronista within a larger bag as an organizer for my electronic devices, which is a highly useful way to keep everything in order. Almost all of the pockets on the Elektronista are easily accessible regardless of how it's used, which I liked.
Given its high price tag and its limited internal space, the Elektronista definitely isn't for everyone, but for a person who just needs to carry an iPhone, an iPad, and other small electronics and is looking for a solution that can be used in several different ways, the Elektronista is worth considering.
Pros:
Lots of organization
Tons of pockets
Easy access to everything
High-quality construction
Works as a standalone purse or as an organizer in another bag
Unzippable sides for quick access to internal storage
Included external iPhone battery
Cons:
Strap is a little too long for short women
Not wide enough for things like a camera
Thin strap is uncomfortable
Some pockets can be hard to access when purse is closed up
No padding for the iPad
How to Buy
The Elektronista can be purchased from the Knomo website for $295. There's also a smaller Elektronista mini that holds up to an iPhone 6s or 6s Plus, and it can be purchased for $195.
Note: MacRumors received no compensation for this review.