Jackery is known for its range of battery options, from small single-device batteries to power stations that are designed for multi-day off-grid living. The 2023 Jackery Explorer 1500 Pro and accompanying SolarSaga 200W solar panel feature the company's latest technology, with an array of charging ports, quick solar charging, and a thoughtful design. It is a bundle that Jackery refers to as the Solar Generator 1500 Pro, due to its sun charging capabilities.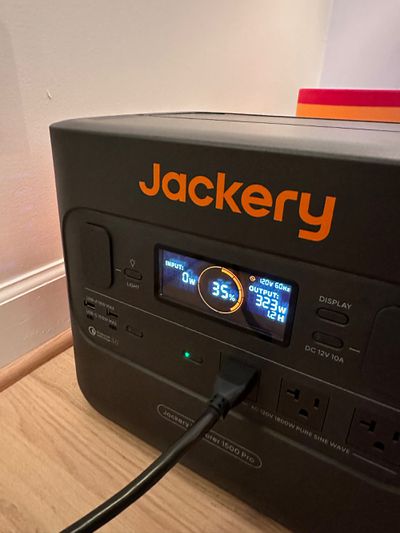 For those unfamiliar with these products, the Explorer 1500 Pro is basically a giant battery pack. It's akin to the small little power banks that you get for iPhones and iPads, but on a much larger scale. The Explorer 1500 Pro has a 1512Wh capacity. For comparison's sake, an M2 MacBook Air has a 52.6 watt-hour battery, so we're talking about potentially days of charging power depending on what you're charging.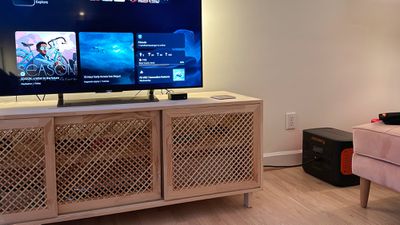 The word "generator" often invokes an image of a gas or propane-powered device that's meant to keep electronics running during a power outage. Jackery's Explorer 1500 isn't powered by fuel, but is instead a power bank that can be charged up using the sun and solar panels, or a standard electric outlet. Jackery sells the 200W SolarSaga solar panels alongside the Explorer 1500 Pro, and with a couple of panels, the battery can be charged in a handful of hours.
Oversized batteries are useful to have on hand in case of an emergency where the power goes out, such as a storm, and that's how I've used a prior larger-sized power bank that I have had for years. They're also good for operating appliances and charging up while camping, and there are people who use them in RVs and vans as a main power source. Jackery's Explorer 1500 Pro can be paired with up to six solar panels for recharging purposes, ideal for off-grid or when there's a multi-day power outage.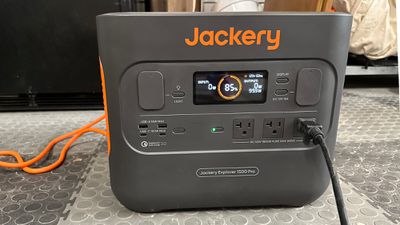 I do want to point out that this is a 37 pound battery, so you're not going to want to be hiking around with it, but it's perfect if you're driving up to a campsite or using it in a vehicle like a van. At home, the weight is inconsequential since it's mostly on standby for emergencies, but I also find these power banks useful for when I need to use a corded tool in an area with no power outlet so I have lugged it around the house. 37 pounds is not exactly small, but I did some looking around and it is smaller in size and weight than many of the other equivalent options. The heavy duty carrying handle also makes it easy to transport.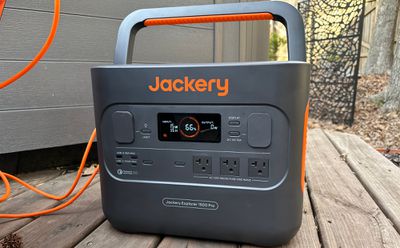 The 200W SolarSaga panels that Jackery recommends for charging the Explorer 1500 Pro are also absolutely huge, weighing in at around 25 pounds and spanning five feet when unfolded. You'll need significant space for charging if you're using these at a campground or out on the road, or even in your yard. They fold up into fourths so they're easy to store when not in use, and you can tuck them away without taking up too much space.
The Explorer 1500 Pro is designed for charging multiple devices, and it has several ports. There are three AC outlets that support 1800W and 3600 peak watts, two 100W USB-C ports, two 18W USB-A ports, and a car charger, along with places to attach the solar panels and an AC input for wired charging of the battery itself.
1800W is powerful enough for almost all tools, appliances, and devices. It should run most portable electric heaters or portable AC units, and it works with fans, microwaves, blenders, and mini fridges. Many people use these as backups for CPAP machines and other health-related devices.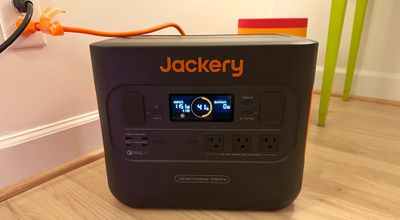 Because it takes forever to drain a battery of this size, I didn't test it to completion, but charging my iPhone 13 Pro Max from 0 to 100 percent barely moved the meter. Charging my 16-inch MacBook Pro used less than 10 percent of power, so if you're just looking at Apple devices, you're going to be able to charge multiple times before the battery runs out. I was also able to power my router and modem for well over a day so it's handy for staying online in a power outage.
It will run a small lamp for multiple days, and it can also be used with higher power devices. Based on Jackery's estimates, a microwave can run for over an hour, a rice cooker for two hours, a mini fridge for 10 hours, and a TV for 17 hours. It can run a drill or a grinder for three hours or a saw and blower for two hours. I've never needed to use a tool for that long consecutively, but my weed whacker, orbital sander, and shop vac were able to run off of the Jackery.
I had a limited amount of time for testing, but my shop vac used ~1,000 watts of power and used about 10 percent of the battery in 10 minutes, so it would last around an hour. Running my PlayStation 5, a 50-inch TV, a light, and a few other accessories used between 320 and 1150 watts. Starting at 64% power, it was able to run everything for just over two hours.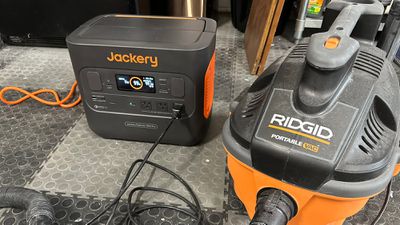 A battery this size does not come cheap and it is priced just over $1,400 with Jackery's current discounts, so it's not something to pick up on a whim. This pricing is higher than some cheaper options that are available on Amazon, but Jackery is a name brand that has a reputation for good quality batteries, which has the potential to be a major factor for a device purchased for use in an emergency situation.
Jackery has smaller options and frequent sales, but this is the kind of purchase that you need to do a lot of research for, and I'd encourage anyone thinking about buying a power station to look at all of the available options and compare them against what needs to be charged and what other features you might need like quick recharging, solar panel compatibility, ergonomics, and wattage required.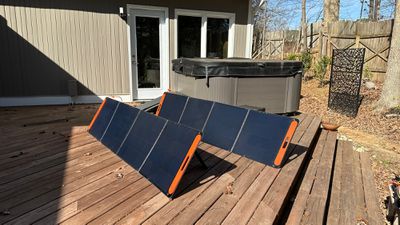 Anecdotally, I have had a different Jackery battery for three years, and it's still going strong. It holds a charge for months at a time even when I forget to check on it, and it has been nothing but reliable, so that has generated some trust for the Jackery brand in my mind. I have not had months to test this new battery, but I expect the same performance over time. That said, I think it's worth reading a lot of reviews to get perspectives from a range of people.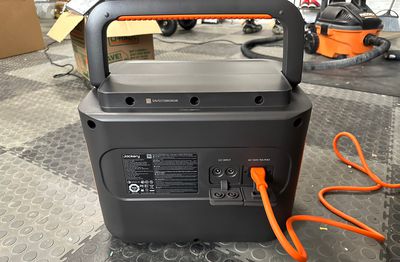 As for charging, the speed at which the Jackery Explorer 1500 Pro 1500 can charge is one of the main perks. With a pair of 200W SolarSaga panels, it was pulling 330W on my deck, which does have some tree cover. With that charging speed and that amount of sunlight, it would take approximately 3.5 hours to charge to full. It can be even quicker in 100 percent full sun, and with additional solar panels.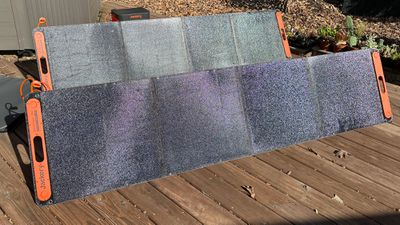 Over the course of an hour, the Explorer 1500 Pro charged from 23 percent to 48 percent at a range of 280 to 330 watts (fluctuating with shifting sun at 11:30 a.m. to 12:30 p.m.). After another hour check-in at 1:30 p.m,, it was charged to 62%, and at this point it had dropped to about 150W as it got shadier. From 1:30 to 2:30, I lost a lot of the sun on the deck and it went to 66 percent at around 70W, and at that level of sunlight, it slows down quite a bit.
Maximum performance from the Explorer 1500 Pro and the SolarSaga panels requires full sunlight, and unless you're in an open area, you may need to do some panel shifting as the sun moves in the sky. Up on the roof of an RV or a van, charging will probably be more uniform, but I was dealing with a lot of trees.
Even in partial shade the Explorer 1500 Pro is able to maintain around 70W, so you're going to get some power, and with almost no direct sun, it was still pulling 15W, enough to power an iPhone. Even on a cloudy day, you'll get some power, and I was impressed with what I got when in partial sun conditions.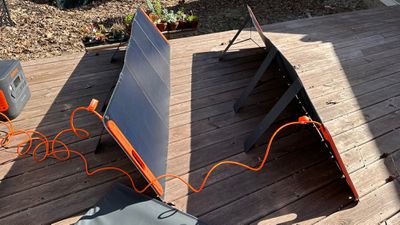 When charged through a wall outlet, it took about two hours and 15 minutes to charge the Explorer to full, and it was charging at about 1150 watts before slowing down to 875 watts at the end. Jackery says that it should take around 16.5 hours to charge via the car, which I did not test.
There are some other bells and whistles to be aware of. There's a display that you can activate with the press of a button to see the current charge, the input charge if you're charging the Explorer 1500 Pro, and the watts being used if you're charging something. There's also a bright built-in flashlight, and there are fans inside the enclosure.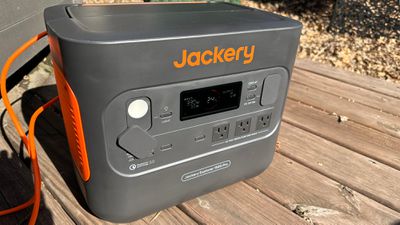 Large power banks can be loud because the fans kick on when you have devices plugged in, and this is no exception. It's quieter than the prior model I've tried, but it's still on the level of a fan. I could probably sleep in a room with it, but when it's charging from a wall outlet at max power, there's something of a loud whine so you might not want to have it in the same room that you're in when it's being powered up.
There are vents on the side of the Explorer 1500 Pro, and Jackery says that there's more heat dissipation efficiency compared to older products, along with eight temperature sensors inside to allow the fans to adjust to the interior temperature for safety purposes. It got warm, but it did not feel super hot to me. The maximum I had it at was about 1,200 watts, so it might get warmer as it's approaching its maximum.

Bottom Line
If you're in the market for a large battery for camping, emergencies, or another purpose, the Explorer 1500 Pro and SolarSaga panels from Jackery should be on your list to check out. The Explorer 1500 Pro can run a wide range of appliances and provide plenty of power to Apple devices, and it charges up fast, either using the sun or an electric outlet.

How to Buy
The Jackery Explorer 1500 Pro can be purchased from the Jackery website for $1,445 using a discount that's available through February 15. Use promo code OFFER15 when checking out to get the deal, or purchase from Amazon and add the $240 discount to your cart.
Note: Jackery provided MacRumors with Solar Generator 1500 Pro for the purpose of this review. No other compensation was received.