Last year, popular accessory company Sanho and its HYPER brand launched the iStick, a flash drive with both USB and Lightning connectors to make it easy to transfer files between iOS devices and computers. A Kickstarter campaign for the iStick raised over $1.1 million, with the device coming in capacities ranging from 8 GB to 128 GB.
Building on the success of the iStick, HYPER by Sanho has worked with Taiwanese firm iCirround to bring a next-generation version, the MFi-certified iShowFast, to the United States. By upgrading the USB connectivity to USB 3.0, the iShowFast is up to 14 times faster than the iStick and SanDisk's similar iXpand flash drives, offering read speeds of up to 140 MB/second over USB and 30 MB/second over Lightning.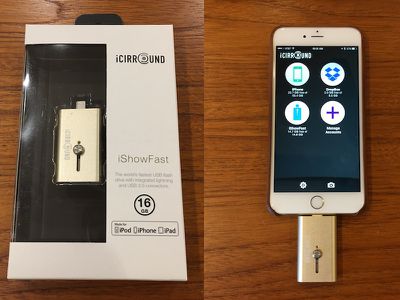 As it has done with a number of its other products, HYPER by Sanho is launching iShowFast via an Indiegogo campaign, but backers shouldn't expect an extended production timeline with potential stumbling blocks pushing delivery out even further than anticipated. iShowFast is already in production and ready to go, with HYPER by Sanho set to start shipping orders out as soon as the $50,000 Indiegogo campaign ends next month.
We've had a few days to play with an iShowFast stick, and while it's a pretty straightforward product that operates essentially identically to the iStick, it was good to see the device is indeed ready for launch in its retail packaging and to be able to try it out with its companion app for managing files on iOS devices.

The design of the iShowFast is clean and simple, with a gold aluminum body that is close to but not quite identical to the gold color Apple uses on its devices. A prominent slider button on the iShowFast makes it easy to switch between Lightning and USB connectors, although this cap-less design leaves one of the connectors unprotected when the drive is carried around in a pocket or bag.


A blue LED next to the slider flashes briefly when the drive is connected to an iOS device or computer to confirm the connection and then occasionally as data is accessed on the drive.


The iShowFast app for iOS is a simple utility that allows users to manage their files on both the flash drive and on the iOS device itself, as well as a linked Dropbox account. The usual file management tools are included, allowing users to delete, copy, move, share, and zip files, and password protection is supported. The app can also pull in items from the user's photo albums, music libraries, and clipboard, and offers one-step backup of the contacts stored on the device.


The main screen of the iShowFast app includes access to the device's camera functionality, making it easy to capture photos and videos and save them to the phone's local storage, the iShowFast stick, or Dropbox.


For photos, the iShowFast app includes basic photo filters and editing from Camera360, making it easy to apply various effects, blurs, lens flare, and framing options while also supporting cropping, rotation, and a number of other image adjustments.


Overall, we found the iShowFast to work as advertised, offering a simple method for transferring files between iOS devices and computers and some nice basic camera integration and support for Dropbox. Given the ubiquity of wireless file transfers these days with Wi-Fi networking, AirDrop, iCloud, and more, many users won't have a need for the iShowFast. But for those who want or need to physically transfer files with support for password protection, the iShowFast looks like a solid option.
iShowFast's Indiegogo campaign kicks off today, offering early-bird backers and backers who previously supported the iStick campaign 40 percent off the eventual retail prices of the iShowFast.
$49 - iShowFast (16GB) for Early Birds & iStick Kickstarter backers
$59 - iShowFast (16GB). Regular retail price will be $80.
$60 - iShowFast (32GB) for Early Birds & iStick Kickstarter backers
$79 - iShowFast (32GB). Regular retail price will be $100.
$89 - iShowFast (64GB) for Early Birds & iStick Kickstarter backers
$99 - iShowFast (64GB). Regular retail price will be $150.
$149 - iShowFast (128GB) for Early Birds & iStick Kickstarter backers
$199 - iShowFast (128GB). Regular retail price will be $250.
The first batch of 3000 sticks will go out next month soon after the Indiegogo campaign ends, with the remainder of the orders going out in December.
Note: MacRumors received no compensation for this review.