The fifth review of my iPhone X Roundup series focuses on Spigen, OtterBox, LifeProof, Totallee, and Sena. If you've missed my previous posts, I'm taking a close look at iPhone X cases from a range of manufacturers. We don't often feature case reviews on MacRumors, but with the launch of the iPhone X and its new design, we felt it was worth exploring some of the available case options.
My previous reviews are below:
For all of these reviews, I'm looking at the general usability of iPhone X cases. Extreme drop tests and in-depth testing aren't covered because those factors are less important than how a case works on an average day, and it's often fairly easy to tell from design how protective a case is going to be.
Factors like bulk, button accessibility, general protection, grip, thickness, and appearance are what I focused on. All of the cases in this review roundup work with wireless chargers unless otherwise mentioned.

OtterBox
OtterBox used to be known primarily for its super bulky, ultra protective cases, but these days, OtterBox makes a lot of other cases that are still just as protective but add less bulk than the traditional Defender series.
Priced at $44.95, the Symmetry series offers OtterBox's slimmest cases. When I say slim, though, I mean in comparison to other OtterBox cases, not "slim" cases in general. The Symmetry is still a very thick case with a hard shell back and a rubber interior that wraps around all sides of the iPhone X.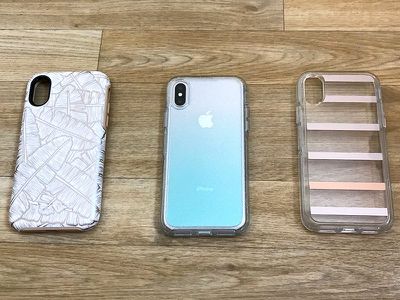 Symmetry cases are not unattractive, but they're much thicker than I prefer for my iPhone. There is a thick lip that comes up over the display, and while a lip this thick protects the screen, it makes it undeniably more irritating to swipe up from the bottom of the display if you're a person who swipes from the very bottom. The mute switch is difficult to get to because of the thickness of the case, and it may not work with some docks. On the plus side, the volume and power buttons are easy to press. This is definitely a case that feels like it's going to offer a lot of protection from drops.




The Pursuit, priced at $69.95, is thicker and more protective than the Symmetry. It has a hard plastic body with a thick rubber that wraps around the side of the case. It snaps apart into two pieces so you can get your iPhone X inside, and snapping it back together can take a few minutes of attempting to align it.


This is a case that's designed to cover the ports of the iPhone X to protect it from the elements (dust, mud, dirt, and snow), so the Lightning port, mute switch, and speaker holes are all covered up, and there's a seal around the camera. Buttons are easy to press, and there's a new switch on the case for muting, but to charge, you'll need to remove a small rubber cover over the Lightning port. Most people are not going to need this level of protection, so this is something of a niche case. Ultimately, the Pursuit is a lot like a thinner Defender case, and it's one of the more protective cases you can get.


OtterBox's Strada Folio, priced at $49.95, combines OtterBox-style protection with a folio design. A rubber-lined hard plastic shell protects the iPhone, and at the exterior, it's covered in leather for those who like a leather look. There's a wraparound front cover, also made of leather, with a slot for holding cards or cash.


The Strada Folio is similar in overall size to the Symmetry, so while it's not as bulky as other OtterBox offerings, it's still bulky in comparison to slimmer cases from other companies. OtterBox does a good job with buttons and ports, so everything is accessible and can be easily pressed, with the exception of the power button, which I found difficult to use. The Strada Folio offers total device protection with the front cover and like all OtterBox cases, it feels like it could survive some serious damage.


The OtterBox Defender (Screenless Edition) is a traditional ultra protective OtterBox case. It is the thickest iPhone X case OtterBox offers, and it feels like it's thicker than two iPhone X models stacked on top of each other. There's some serious bulk here. It offers full protection for the iPhone X and covers all of the ports, plus it seals the area around the camera. It comes apart in three pieces (two halves of a plastic shell and then the rubber skin), so you can put it on the iPhone, and there's also a removable belt clip.


The Defender is incredibly rigid with a plastic interior and a rubber exterior, plus padding inside for the iPhone X. I would be absolutely shocked if an iPhone X didn't survive a serious fall in this case. Needless to say, the lip around the case comes up a significant amount over the display and somewhat restricts swiping up from the bottom of the iPhone X. Again, this is a level of protection most people won't need, but for those who do, it's nice to have the option.

Spigen
Spigen makes a lot of cases, and I took a look at most of the collection because Spigen appears to be a favorite on the MacRumors forum. Many of you told me you use Spigen cases and recommended them for review. Bear with me, because this is going to be a long section.
Ultra Hybrid S ($24.99) - This is a clear case with a hard plastic shell and rubber sides that come up to protect the display. It features a built-in kickstand that works in landscape mode, which is neat if you watch a lot of videos, but I don't love the look of the kickstand. The case isn't super thin, nor is it super thick, and it's grippy because of flexible sides. It's clear and does leave the edges of the iPhone X largely visible. Buttons are easy to press, and while it's not the most protective case I've looked at, it should offer decent protection from drops.


Ultra Hybrid ($24.99) - If you don't like the kickstand of the Ultra Hybrid S, the Ultra Hybrid is for you. It's identical, but it does away with the kickstand. All of the Ultra Hybrid cases are clear, but offer different color border options. Like Ultra Hybrid S, this is a hard plastic shell with rubber sides that offer good grip. Ultra Hybrid and Ultra Hybrid S are middle-of-the-road cases that are bulkier than some slim fit cases, but not too bulky that it ruins the design of the iPhone X.



Thin Fit ($14.99) - I like minimal cases, so this was one of my overall favorites. The Thin Fit is a thin shell that's made from a hard, smooth, grippy material that's easy to hold onto. It leaves the top and the bottom of the iPhone X open, and it doesn't interfere at all with swiping, so this is a good choice for those of you who are bothered by that bottom lip. All buttons are also exposed so there's no interference with button usage, and there's a very slim lip that protects the sides of the display when the iPhone is facedown. At the back, there's also a slight protective lip around the camera. This case is going to offer protection from rear scratches and may protect from small drops, but it's definitely super light protection. This case adds little bulk to the iPhone X since it's 0.5mm thick, so it's almost unnoticeable.



Neo Hybrid and Neo Hybrid Crystal ($29.99) - The Neo Hybrid is your average semi-protective case that's of a medium thickness. It's not as thin as something like the Thin Fit, but also not as thick as, say, the Symmetry from OtterBox. The Neo Hybrid case is made from a flexible rubber with plastic edging, while the Neo Hybrid Crystal is made from a clear hard plastic with some rubber accenting at the edges that obscures the iPhone X edges. Both cases offer good grip and have display protection in the form of a lip, but that lip does wrap all the way around the iPhone X, including the bottom of the display. Buttons are covered but remain easy to press, and given the thicker borders, both cases feel like they offer decent drop protection.


Tough Armor ($34.99) - Tough Armor is another Spigen case that comes with a kickstand that works when the iPhone X is in landscape mode. It's made from a soft, flexible rubber material that's reinforced at the back and the lower sides with a hard plastic. Generally, anything with "armor" in the name is a little bulkier than the average case, and that's true of this case. Buttons are covered, but easy to press, but it's less grippy than other Spigen cases. It's fairly thick, with thick bezels around the display. Those bezels don't come up too high though, so while it does interfere with bottom swiping a little bit, it's easy to get used to. This case wraps around the camera notch and has a cutout for the Apple logo. I'm not a huge fan of its design, but it definitely feels protective.


Slim Armor CS ($34.99) - Slim Armor CS is similar in design to Tough Armor and seems to offer about the same level of protection, but does not have the Apple logo cutout on the back. Instead, there's a hard plastic piece that slides over to allow you to store cards underneath. The slide mechanism is a little fragile and I did break the entire case apart once during this review, so that's something worth keeping in mind. I don't know how it'll hold up over time.


Rugged Armor ($19.99) - I'm not sure why this case is called rugged, because it doesn't feel rugged to me. It's made of a soft, flexible rubber material that's a little bit too smooth, and it's thinner than Spigen's other "armor" cases because it doesn't have additional hard plastic accenting. It does offer a lip over the display (which isn't too raised) and it protects the camera, plus it covers all of the buttons. It doesn't feel as protective as the Tough Armor, but it's thicker than something like the Slim Fit without being too bulky, so it's a decent compromise between protection and slimness. It does have a cutout at the back for the Apple logo.



Hybrid Armor ($29.99) - Hybrid Armor is a similar to the Slim Armor CS and the Tough Armor. It's a flexible rubber case that has a hard plastic shell on the back. With all of these armor cases that also have plastic, the plastic piece pops off. On this one, it tends to come off randomly and doesn't stick down well, something that would definitely be an irritation in every day use. This feels about as thick and as protective as the Tough Armor, so it seems like it'll hold up well to drops. With this case, the power button is easy to press, but the volume buttons offer a little bit of resistance. It protects the camera, has an Apple logo cutout, and does offer all-around protection with a lip to keep the display safe when facedown.


Wallet S ($29.99) - As the name suggests, this is a case that's designed to replace a wallet. It's a folio-style case, with a hard plastic shell that holds the iPhone in place and a front cover that can hold multiple cards in card slots and some cash in the larger side pocket. For a folio case, the Wallet S is fairly slim, and there's a little magnetic strap that keeps it closed. Most folio cases don't have something to keep them closed so I always worry about how they'll land in a drop, but this particular case should keep the front and back of the iPhone X case safe. The inner shell of this seems to be the Thin Fit case, which has a bit of a lip at the sides of the iPhone but leaves the top and bottom bare.


The front flap folds back when the iPhone X is in use, so it's not much different from a non-folio case. Design wise, it's rather plain, and is made of a fake leather material, but the cover does fold back to serve as a stand for watching videos in landscape mode.


Liquid Crystal ($19.99) - The Liquid Crystal is another Spigen favorite of mine. It's clear, but instead of hard plastic, it's made from a soft TPU material. It's super grippy and easy to hold on to, and it lets the design of the iPhone X shine through. There's a lot of Spigen branding on the edges, though, which does obscure the shiny stainless steel. There's a little bit of a lip to protect the iPhone's display, which does wrap all the way around, but I didn't find it to be an irritation when swiping because it's not super raised. Buttons are accessible and easy to press, and this case is slim while managing to feel like it still offers decent protection.


These must be prone to staining, because Spigen includes cleaning instructions and a cleaning wipe. There are actually several variations of the Liquid Crystal, including the standard clear model, a Matte black version, the Liquid Crystal Blossom with a flower petal design, the Liquid Crystal Glitter (my favorite), and the Liquid Crystal Shine with a mandala pattern.


Liquid Air ($14.99) - Liquid Air is similar to Liquid Crystal because it's also made from a flexible rubber material. It's relatively slim, though not as slim as Thin Fit, and offers an attractive diamond pattern. The material it's made from is fairly slippery, so I didn't think this one offered great grip, but I did like that it was slim while still appearing to offer solid protection. It covers the buttons but leaves them easy to press, and there is a wraparound lip to protect the display. This case doesn't add a lot of bulk and was one of my favorites from Spigen thanks to its attractive design and thin profile.



Rugged Crystal ($24.99) - I'd describe the Rugged Crystal case as a Liquid Crystal that's well, more rugged. It's made from the same flexible clear TPU material that is incredibly grippy, but there's extra reinforcement at the corners. The extra reinforcement offers additional protection from drops, but it also looks a little goofy. Other than the reinforced corners, it's basically identical to the Liquid Crystal.

Totallee
Totallee offers ultra thin plastic cases that are basically identical to cases from other companies like Peel. A bunch of companies make cases like this, but Totallee's cases are reasonably priced at $19 and come in a nice range of colors. These cases are 0.02" thick, so somewhere around 3mm, which means they're not really going to offer much drop protection for the iPhone X.


They'll protect well from scratches, but there is no lip around the display so if your iPhone X falls face first, it's like having a naked device. If you only need scratch protection, Totallee cases are perfect because they add next to no bulk.


There are different finish options, and some are more expensive than others. The metallic finishes, which look great, are $25, for example.

Sena
Sena makes high-quality leather cases that feel nice and look elegant. I was a fan of a lot of the designs the Sena cases offered, and those of you who prefer leather cases will definitely want to take a look at this brand.
Isa Crossbody Snap On Leather Wallet Case ($79.95) - The Isa Wallet Case comes with a giant strap so you can wear it crossbody, which seems entirely ridiculous to me. I would absolutely not want my iPhone X dangling around at my hip like this, and while the strap is removable, if you use this case without it, there are two rather large loops at the bottom.


It's a great color, though, and it does serve as a wallet replacement. It has space for a driver's license and several credit cards in an extra little wallet add-on at the back of the case. Because of its thickness, this case does not work with wireless charging.


I do like the quilted design of the case and the slim fit, and Sena did a good job with the button covers. All Sena cases have these nice metal buttons that are super easy to press. There is a lip that wraps all the way around the phone and does interfere a bit with upwards swiping.
Racer Leather Snap On Case ($54.95) - While I thought the Isa case was totally impractical, the Racer case from Sena is a different story. It's made from blue and black leather with a racer stripe design that's attractive in person. The leather is grippy and the back is padded, so it's easy to hold on to, and quite pleasant in the hand.


Though there's a padded back, this case is actually fairly slim and has a nice small lip that protects the display of the iPhone X. The bottom of the case is open so it doesn't interfere with swiping upwards or charging on a dock.


Bence Lanyard Snap On Case ($54.95) - The Bence case is similar to the Racer case, but without the extra strip in the middle. It's made from the same soft, padded leather, which I like a lot because it's easy and comfortable to grip.


It has the same easy-to-press buttons, an open bottom for easy swiping upwards, and slim front lip. Like the Racer, it seems to offer a decent amount of protection without being overly bulky, and because of the slightly padded back, it should have more rear protection than your average case. This is an all black case and it looks nice in person. I like the idea of a wrist strap because it offers a little bit of extra protection when doing things like taking one-handed photos.


Arri Wristlet Leather Snap On Case ($54.95) - This case is identical to the Lanyard case, but it has a two-tone design that's more feminine. There are a few colors to choose from, but the one I have in hand is pink and black.


It's got the same soft, padded leather, open bottom for swiping, easy-to-press metal buttons, and slim lip to protect the display.

LifeProof
LifeProof is a brand that's owned by OtterBox, and its cases offer higher levels of drop protection than you get with the average iPhone X case. With drop protection comes bulk, though, and these LifeProof cases are not cheap.
LifeProof Next ($79.99) - LifeProof's Next case for the iPhone X is similar to cases from OtterBox. It's a two-piece snap-on case that includes a clear hardshell back and a rubber-covered frame for extra drop protection. This is not a waterproof case, but it is resistant to dust and snow because it covers all ports and the speakers at the bottom of the iPhone X.


Since this is a snap together case, it's a bit difficult to get on and off, so this isn't something you want to get if you like to swap cases often. It's clear, so you can see the iPhone X's design, and it's thick enough that it feels very protective. This level of protection adds a lot of bulk, so this is also not the case for people who like slim designs.
Unfortunately, the buttons are very hard to press in this case, which is a major downside given how important button use is in the iPhone X. It has a large lip around the display that's going to protect it when facedown or from drops, and thanks to a sort of tapered design for this lip, it doesn't interfere too much with swiping. At $80, this case is expensive, and it's not one I'd recommend (mostly because of the buttons) unless you need a higher level of protection than the average case can provide.


LifeProof Slam ($49.99) - The LifeProof Slam is similar to the LifeProof next in thickness and design, but it is more affordable because it doesn't have the same port protection. The Lightning port and speakers are left open, and there's no cover for the mute switch.


I like the bright color combinations for the Slam, which again consists of a clear hard plastic shell that leaves the iPhone X's design visible and a rubber bumper for better drop protection. Slam uses the same snap-on two-piece design, and it also has buttons that are hard to press. It has the same tapered front lip as the Next, too.

Bottom Line
This time around, Spigen has some of the thinnest and most affordable cases. I was a fan of several of the Spigen options on the thinner side, including the Thin Fit, Liquid Crystal, and Liquid Air, which were the slimmest of the bunch. Many other Spigen options offer a little more protection in exchange for a bit more bulk, and those are worth checking out if you'd like something that's a nice compromise between thickness and protectiveness.
For even more protection, OtterBox's case line is worth taking a look at, and if you want less protection, ie, just scratch protection, Totallee is what you'll want to take a look at. Totallee's cases are about 0.3mm thick, so they're adding next to no bulk to the iPhone X.
For higher-end cases that are both stylish and protective, Sena offers cases that look high quality and are super padded to keep your iPhone safe. LifeProof has nice designs that seem to offer a lot of protection, but the case makes the iPhone X buttons hard to press, and that's a dealbreaker for me.
As always, since this was a brief look at the cases available from several different companies, I'm happy to provide additional photos and answer questions about any of the cases listed down in the forums.