Encrypted messaging app Signal features a face-blurring feature that automatically locates and blurs faces in images shared over the chat platform.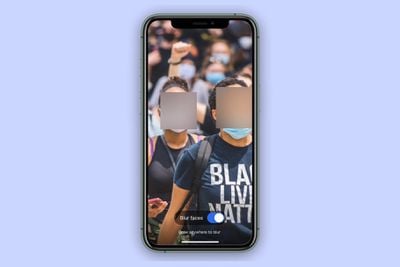 It's a neat tool to help protect the privacy of the people in the photos you share, and all processing involved in the blur feature happens locally on the device to maintain privacy.
Not only does it make it easy to give every face a hiding place, it can also be used to draw a fuzzy trace over something you want to erase. The following steps show you how to use it.
Launch the Signal app on your iPhone or iPad, then from the main chat Home Screen or within in a chat thread, tap the Camera icon.


Next, take a photo, or tap the photo album icon in the bottom-left corner of the screen.


If you opted to use an existing picture from your photo album, select it and tap the button in the bottom-right corner of the screen to view it, then you're in the photo editor screen, tap the Blur Tool icon at the top (it's a circle with a cross of small grey and white squares inside it).


To automatically blur faces in the image, toggle the Blue Faces switch that appears to the green ON position.

Bear in mind that the feature isn't perfect, and won't detect every face all of the time.


To compensate for these flaws, Signal's image editor also includes an option to manually obscure faces and other areas of a photo with a blur brush.