Like iOS devices, Macs, the Apple Watch, and the Apple TV, the HomePod and HomePod mini are updated with new software on a regular basis.
By default, updates are installed on your ‌HomePod‌ devices automatically, but there's also a way to force an update if new software is released. Apple's auto update function isn't typically immediate, so it can sometimes be handy to have a way to manually install software.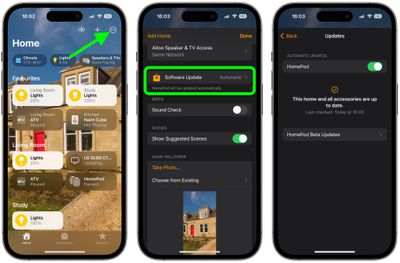 Locating ‌HomePod‌ updates and checking on the software version you have installed is simple, but it's not entirely intuitive because the update function is somewhat buried in the Home app.
Here's how to get to it:
Open the Home app.
Tap on the icon that looks like three dots in the upper right corner.
Tap on Home Settings.
Scroll down to Software Update.
Tap Software Update to see if there are any available updates.
Once you've selected "Software Update," you'll be able to see the current version of the ‌HomePod‌ software that you have installed, along with available updates, and you can toggle off automatic updates if you want.
If there is an available update, you'll just need to tap the Install button to update your ‌HomePod‌. If you have multiple HomePods in your home, each one will be updated at the same time through this software update feature.