In the Messages app on iPhone and iPad, Apple includes a bunch of screen effects that add fireworks, confetti, and more to the whole screen when you send an iMessage to someone.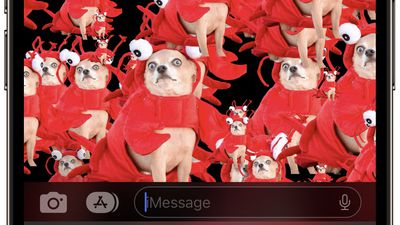 Because it's not obvious how to access these iMessage screen effects, they're often overlooked, which is a shame because they can surprise recipients, make them smile, or even laugh out loud – if you use the right approach.
Here we're going to highlight one screen effect in particular that – when combined with an isolated subject from an image – can easily produce amusing results. Keep reading to learn how it's done.
First, open the Photos app and select an image from your library containing a well-defined subject – the funnier the better.
Press and hold on the subject until it ripples and a white glow flows around its outline, then tap Copy in the popup menu that appears.


Now open the Messages app, and in new or existing conversation, press and hold your finger in the input field, then tap the Paste option that pops up.
Next, press and hold down the Send button until the "Send with effect" screen appears.
Tap the Screen tab at the top, and the first effect that's selected is called Echo – this is what you want. Enjoy the preview, then hit the Send button.

Congratulations, you've just sent an exploding iMessage that should hopefully amuse your friends. Here's another tip: If you're short of funny pictures, you can also easily lift subjects from images on the web instead. Click the link to see how it's done.