In iOS 15, Apple's Maps app benefits from a range of new features and improvements, including the ability get real-time information on the nearby transit options available to you.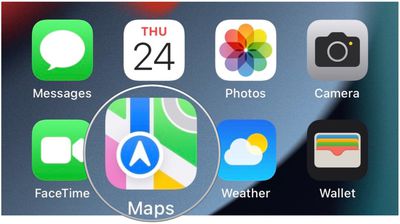 This transit information can be found for major bus routes and rail lines in cities with updated maps. Transit riders can see all of the departures listed near them, including any existing delays on services, and even pin ones they use often to make them more easily discoverable in Maps. Here's how it works.
In the Maps app, pull up the menu card and tap More next to "Favorites."
Under "Siri Suggestions," select Nearby Public Transport. Tip: Tap the + icon next to it to add it to your Favorites.


You'll see any nearby transit links in a categorized list. Tap one to get more information on it, including the stops the train or bus has made and will be making, other upcoming departures for this destination, including details on any delays.
To pin a route to make it easier to find, scroll down to the bottom of the stops view, and under "Line Options," tap Pin Line. Alternately, return to previous "Nearby Public Transport" menu, then swipe right on a transit line/route and tap the yellow Pin button that appears.

Note that pinned routes will always appear at the top of the "Nearby Public Transport" menu, and you can unpin a route just as easily by swiping right on it to reveal a yellow Unpin button.