Following several months of anticipation, the Apple Watch is almost in the hands of customers around the world. Apple will begin accepting Apple Watch pre-orders on Friday, April 10 ahead of an April 24 release date in the United States, Australia, Canada, China, France, Germany, Hong Kong, Japan and United Kingdom. The wrist-worn device should have wider international availability in the near future.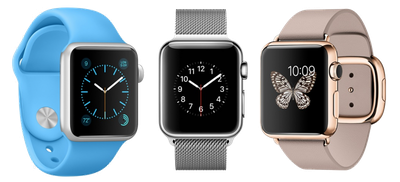 Apple Watch starts at $349 for the entry-level Sport model, while the stainless steel model ranges from $549 to $1,099 and the 18-karat gold edition starts at $10,000. The exact pricing for the Apple Watch will depend on which model, size and bands a customer chooses to purchase. To help with the buying process, we've prepared a guide on how to pre-order the Apple Watch in stores and online.

How to Pre-Order the Apple Watch
Buy Online and Ship to Home
Apple will begin accepting pre-orders for the Apple Watch on April 10 through the Apple Online Store and Apple Store app at 12:01 AM Pacific Time. Pre-orders will go live in all first wave launch countries at the same time:
U.S., Canada: 12:01 a.m. (Pacific Time), 3:01 a.m. (Eastern Time)
U.K.: 8:01 a.m.
Germany: 9:01 a.m.
France: 9:01 a.m.
Australia: 5:01 p.m. AEST
Hong Kong: 3:01 p.m.
China: 3:01 p.m.
Japan 3:01 p.m.
If you are looking to pre-order the Apple Watch without trying on the device, you can purchase the exact model you want from either storefront and the product will be shipped to your home or a specified address for free with delivery beginning on April 24. Apple Watch Edition customers also have the exclusive option of shipping the gold watch to a local Apple Store via courier for pickup.

Ordering Online Without an Appointment
Beginning on April 10, you can order directly from Apple's online store or through the Apple Store app as soon as pre-orders go live at midnight Pacific Time. Oftentimes, ordering through the app can be a faster process, as the online site can become congested with many people trying to order at once. If you need help deciding on an Apple Watch to choose ahead of pre-ordering, make sure to check out our Apple Watch Buyer's Guide.
Pre-orders placed online will ship out to customers ahead of April 24, for an April 24 delivery date, for as long as supplies last. We've heard some rumors suggesting supplies will be limited, so if certain varieties of the Apple Watch sell out, only those who pre-ordered early will get an April 24 delivery date. If you want to be sure to get an Apple Watch on launch day, make sure to order right away.
Try-On Appointment and Buy Online
If you would prefer to try on the Apple Watch before pre-ordering, you can schedule a try-on appointment through the Apple Online Store or Apple Store app. You will then arrive at the Apple Store for your scheduled appointment with a Specialist, at which point you can try on two Apple Watch models of your choice at a time. We're going to publish a detailed walkthrough of the try-on experience as well, so keep an eye out for that.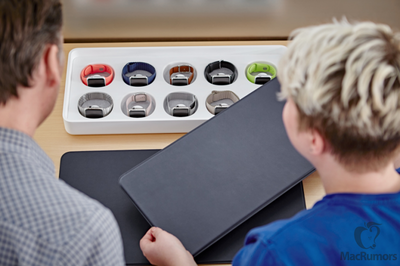 Following your try-on appointment, the Specialist or Genius assigned to you can assist you with pre-ordering an Apple Watch from the Apple Online Store before leaving the store. If you are not interested in purchasing an Apple Watch at that specific time, you can schedule another try-on appointment by speaking with an Apple retail employee or visiting the Apple Online Store at a later date. Apple is not offering walk-in purchases of the Apple Watch without a product reservation, which will not be fulfilled until April 24, so ordering online for home shipment is the only option during the pre-order period.
Walk-In Queue and Buy Online
Apple will also be allowing walk-in customers to be added to the queue of try-on appointments at its retail stores, although expect longer wait times than scheduling an appointment through the Apple Online Store or Apple Store app. If long wait times are expected, Apple offers the option to send you a text message when your try-on appointment is approaching.


Apple will not be offering walk-in purchases of the Apple Watch during the pre-order period, or upon launch, so appointments will ultimately lead to making an online purchase as outlined in the Try-On Appointment and Buy Online section above. When the Apple Watch launches, all walk-in customers will require a Product Reservation to purchase a device through a retail store.