Anyone who has used an iPad Pro with a Magic Keyboard will know just how much better the typing experience is compared to tapping away on the virtual keyboard. Once you've tried it, you'll never want to go back to using the onscreen keyboard for any extensive document work.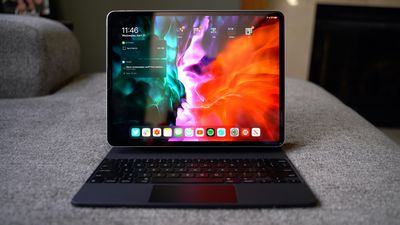 However, occasionally there might be times when you need to use the onscreen virtual keyboard to do things like type accented characters or use dictation. Fortunately, Apple has recognized this and included a simple way to activate the virtual keyboard on an ‌iPad Pro‌ even when you're using a Magic Keyboard.
When you're in an editing window, tap the Down Arrow key on your Magic Keyboard.
Next, touch and hold the downward-facing chevron in the bottom-right corner of the screen until the onscreen keyboard appears.


To hide the virtual keyboard again, tap the key in the bottom-right corner of the screen.
For more tips on using a Magic Keyboard with your ‌iPad Pro‌, click here.