Apple in iOS 15 introduced a new Mail Privacy Protection feature that's designed to obscure your IP address so email senders can't use it to determine your location or link it to your browsing activity.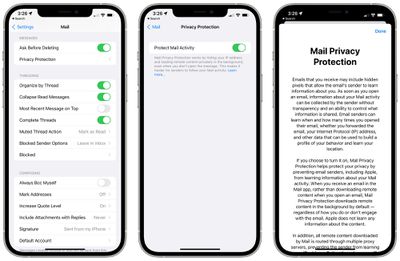 To do this, Apple loads remote content using a relay server that hides your IP address, a feature that also has the benefit of preventing companies and people who email you from using tracking pixels to determine when you read an email.
Mail Privacy Protection can be enabled in the Settings app, but Apple warns that there are some situations where it might not work properly.
If you see an "Unable to load remote content privately" at the top of an email, it might be because you're using a Virtual Private Network. Mail will not load content without your permission, but if there's something that you need to see, you can bypass it by tapping the "Load Content" option on the warning.
When you use "Load Content" with a VPN enabled in this way, the content will be loaded through the VPN rather than through Mail Privacy Protection so you will still have some protection from the VPN. You can also turn off the VPN to try get the full benefits of Mail Privacy Protection.
Note that this error message can also appear on macOS Monterey when using a VPN with Mail Privacy Protection enabled.