Apple's iPhone 15 Pro Max features a tetraprism lens system capable of up to 5x optical zoom, an improvement over the 3x zoom that's available in the ‌iPhone 15 Pro‌ and the prior-generation iPhone 14.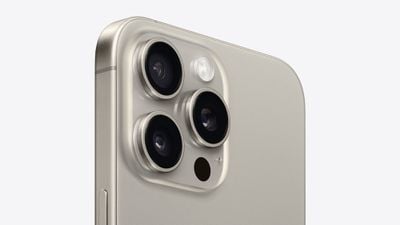 The Telephoto lens on the iPhone 15 Pro Max features Apple's most advanced camera stabilization system yet, with a combination of optical image stabilization and an autofocus 3D sensor-shift module.
When shooting with 5x enabled, the iPhone 15 Pro Max's Telephoto lens opens at ƒ/2.8, allowing for excellent light management, according to Apple. By comparison, the Galaxy S23 Ultra's 10x lens has a ƒ/4.9 aperture. A lower aperture allows for more light to be captured by the camera's sensor, which can be especially beneficial for Night mode photos.


To use 5x optical zoom in the stock Camera app, simply tap the 5x button at the bottom of the viewfinder. When 5x optical zoom is enabled, you can also enable up to 25x digital zoom by pinching in the viewfinder, although bear in mind that image quality degrades the more you zoom in digitally.


The iPhone 15 Pro Max's 25x digital zoom limit still falls below the competition. Samsung's latest Galaxy S23 Ultra smartphone for example has 100x Space Zoom that can capture images from 330 feet away, while the Pixel 7 Pro has 30x digital "Super Res Zoom" with its 5x optical zoom lens.
To its credit though, Apple has never leaned into digital zoom because the quality is poor. Optical zoom provides a crisp, clear image using the camera hardware, but digital zoom uses software enhancement to crop in.
5x optical zoom is an ‌iPhone 15 Pro‌ Max-specific feature that is not available on the ‌iPhone 15 Pro‌, which is limited to 3x optical zoom. (It has been rumored that Apple plans to expand the tetraprism lens system to both iPhone 16 Pro models next year.) Both devices share other camera improvements, though. The 48-megapixel main camera has a larger sensor that lets in more light, and it can be set to 24mm, 28mm, and 35mm focal lengths.