If you and a friend have an iPhone 15, you can use Apple's Precision Finding feature to locate your friend and meet up. Keep reading to learn how it works.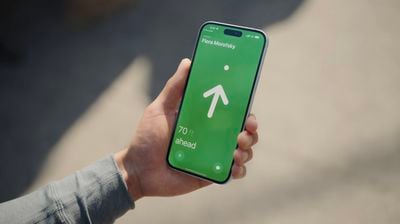 On ‌iPhone 15‌ models, Apple introduced Precision Finding for People. If you and the friend you're lookng for has an ‌iPhone 15‌ or iPhone 15 Pro model, Precision Finding can guide you right to them with the help of on-screen directions and distance information.
To find your friend using Precision Finding, follow these steps:
Open the Find My app on your iPhone.
Tap People at the bottom of the screen, then tap the name of the friend you want to meet. (If you aren't following each other, you may have to share your location or ask for their location.)
If you aren't nearby, tap Directions to get closer to their location. If you're near one another already, tap Find to notify your friend that you're trying to locate them., then follow the onscreen instructions to get directions.
When you get close enough to each other, an arrow will point in their direction with an estimate of how far away they are. When you're walking in the right direction, the screen will turn green.
If you need to message the person you're looking for, tap the Message icon in the bottom-right corner of the screen. When you find your friend, tap the X button in the bottom-left corner to finish.