Apple has made a macOS 14 Sonoma beta available for its public beta testing group, letting public beta testers try out the software before it launches this fall. Keep reading to learn whether you should install it on your Mac, and if so, how to go about it.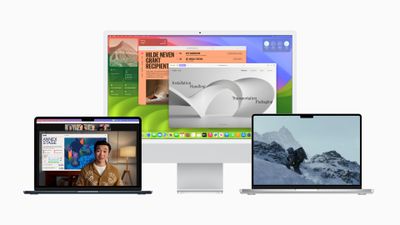 Signing up to get the macOS Sonoma beta is simple, and can be done by enrolling a Mac in Apple's free Apple Beta Software Program. The steps you need to complete to install the software on your device are provided towards the end of this article, but before you jump ahead, here are a few things worth considering.

Should I Install macOS Sonoma Developer Beta?
Before downloading the update, it's worth noting that Apple does not recommend installing the ‌macOS Sonoma‌ Beta on your main Mac, so if you have a secondary Mac that has no important data on it, use that. This is beta software, which means there are often bugs and issues that pop up that can prevent software from working properly or cause other problems.
With that caveat in mind, the steps in the remainder of this article show you how to get macOS 14 betas on your Mac. First though, check that you have a compatible Mac.

Will macOS Sonoma Beta run on My Mac?
‌macOS Sonoma‌ drops support for a handful of Mac models compared to macOS Ventura. The following Macs are not supported:
2017 MacBook Pro
2017 iMac
2017 MacBook (12-Inch)
‌macOS Sonoma‌ remains compatible with the following Macs:
MacBook Pro: 2018 and later
MacBook Air: 2018 and later
Mac mini: 2018 and later
iMac: 2019 and later
iMac Pro: 2017
Mac Studio: 2022 and later
Mac Pro: 2019 and later
Don't Forget to Back Up Your Mac
Be sure to back up your Mac using Time Machine before installing the software using the method, otherwise you won't be able to revert back to the previous version of macOS if things go wrong.

How to Download macOS Sonoma Public Beta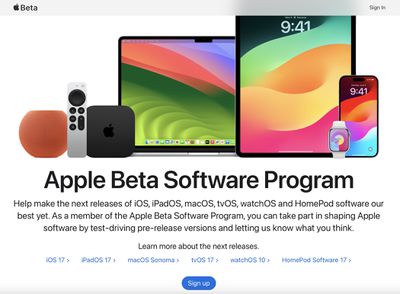 On your Mac, open up Safari and navigate to the Apple Beta Software Program website.
Tap the Sign up button and enter your Apple ID credentials, or sign in with your ‌Apple ID‌ if you've signed up to beta test a previous update.
Agree to the Apple Beta Software Program terms and conditions if required.
After signing in, you'll see a main screen that's a Guide for Public Betas. Click on macOS.
Read through Apple's instructions carefully, and then using the link in the "Get Started" section, select enroll your iOS device.
Make sure to make an backup of your current version of macOS using Time Machine by following Apple's instructions or using our tutorial. This will allow you to downgrade back to your earlier version of macOS if necessary and is crucial if you don't enjoy the ‌macOS Sonoma‌ testing experience.
If your Mac is running macOS Ventura 13.4 or later, go to System Settings -> General -> Software Update and click the Info button next to "Beta updates." Then choose the macOS beta you'd like to install. If your Mac is running macOS Ventura 13.3 or earlier, download Apple's macOS Beta Access Utility and run the installer. Then follow the onscreen instructions to complete installation. Note that your Mac must be signed in with the same ‌Apple ID‌ you used to enroll in the Apple Beta Software Program.
Installation of the macOS beta is manually chosen in System Settings -> General -> Software Update. If a newly released beta is not available when you check, you will receive a notification when it is available to download.

macOS Sonoma Features
Launching this fall, ‌macOS Sonoma‌ includes several new features, including desktop widgets, Apple TV-like aerial screensavers, enhancements to apps like Messages and Safari, a new Game mode that prioritizes CPU and GPU performance for gaming, and more.
The new interactive widgets can now be placed right on your desktop. Widgets blend into your desktop wallpaper to not be obtrusive when you're working, and with Continuity you can use the same widgets from your iPhone on your Mac.
‌macOS Sonoma‌ also introduces enhanced video conferencing features, including Presenter Overlay to allow a user to display themselves in front of the content they are sharing. Reactions let users share how they feel within a video session, and Screen Sharing has been improved with a simplified process.
Safari also gets numerous new features within Sonoma. There's an update to Private Browsing that provides greater protection from trackers and from people who might have access to the user's device, while Profiles within Safari offer a way to separate browsing between topics, like having one for work and one for personal browsing. There's also a new way to create web apps that work like normal apps and let you get to your favorite website faster.