If you've ever wanted to end a call on your iPhone without seeming rude, this handy little trick is for you. Keep reading to learn how to fake a dropped call.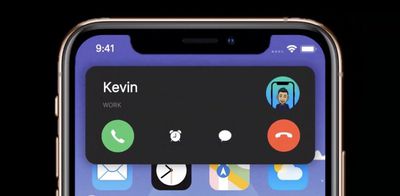 Whenever you hang up a call on ‌iPhone‌, the person on the other end sees a message on their phone saying "Call Ended." This is usually treated as a clear indication that you ended the call on purpose, since if the call had dropped due to bad reception, the message would have read "Call Failed," which sounds a lot less incriminating.
So what if you want to end a call without it looking like you abruptly and rudely hung up? The answer is to turn on Airplane mode. That's because when Airplane mode is enabled during a call, the call immediately ends and the person on the other end sees "Call Failed," as if the conversation ended through no fault of your own. Granted, it's sneaky, but it works.
The easiest way to turn on Airplane Mode is via Control Center. To open Control Center, swipe down diagonally from the top-right corner of the screen (if your ‌iPhone‌ has a Home button, swipe up from the bottom of the screen). Then, tap the button that looks like an airplane so that it turns orange and the green cellular button next to it grays out. The cellular provider name in the top-left corner will also be replaced by a plane symbol.


This should immediately end the call, and all that the person on the other end will see is that the call "failed." If you still appear to be on the call, chances are you have Wi-Fi calling enabled, in which case simply tap the blue Wi-Fi button in Control Center to end Wi-Fi calling.