In iOS, your Notification Center can be accessed by anyone when your iPhone is locked. If this default setting sounds a little less private than you'd like, keep reading to learn how to disable it.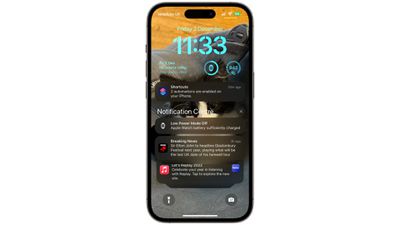 In Apple's iOS, Notification Center shows your notification history and allows you to scroll back and see what you've missed. If your ‌iPhone‌ is unlocked, you can swipe down from the center of the top of your screen to view it at any time.
If your ‌iPhone‌ is locked, you can still access Notification Center by swiping up from the middle of the screen. It's a convenient way of getting an overview of your recent notifications without having to go into the Home Screen, but it also makes them susceptible to prying eyes whenever you leave your ‌iPhone‌ unattended.
If the idea of someone else reading your notifications history puts you on edge, don't worry – there's a very simple way to disable access to it from the Lock Screen. The following steps show you how.
Unlock your ‌‌iPhone‌‌ and open the Settings app.
Scroll down and tap Face ID & Passcode (or Touch ID & Passcode).
Enter your passcode at the prompt.
Scroll down, and under "Allow Access When Locked," toggle off the switch next to Notification Center.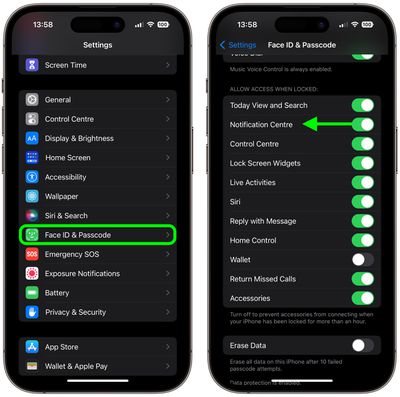 That's all there is to it. Notification Center access from your ‌iPhone‌'s Lock Screen will be disabled with immediate effect.
It's worth bearing in mind that even with Notification Center disabled, you (or anyone else) can still see notifications appear on your Lock Screen as and when they arrive. Luckily, you can disable Lock Screen notifications on a per-app basis.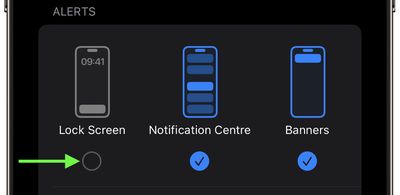 Simply go to Settings -> Notifications, tap the app in question, then uncheck the box under "Lock Screen" in the Alerts options. You can repeat this for every app that you want to disable Lock Screen notifications for.