In macOS Ventura, Apple's Mail app automatically adds a rich link preview in your email when you paste in a web address. Keep reading to learn how to disable them.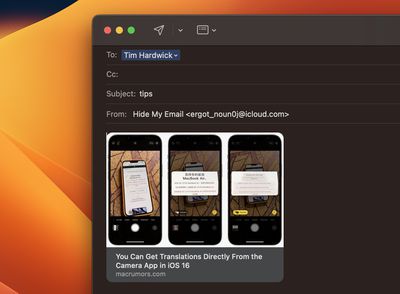 When you paste a web link into a Mail message in macOS Monterey, only the web address is shown in the message content, providing the recipient with no information about what's being linked to beyond what's included in the URL.
By contrast, macOS Ventura inserts rich link previews in emails. Link previews convert the web address into a visual snapshot of the linked content, so recipients can see what's on the other side of the link before choosing to click it.
If you prefer not to include a link preview in your email when sharing a link, here are a couple of simple ways to avoid them.
One way of removing the link preview is to paste the URL directly into the body of the email and then click the small chevron at the top-right corner of the preview. This will display a dropdown menu that includes an option to Convert to Plain Link. Click that, and the preview will disappear leaving just the URL address.


Alternatively, instead of pasting the link into the body of your email, click Edit in the Mail app's menu bar and select Add Link.... This opens a dialog with an input field where you can enter your link.


After clicking OK, the link will appear in your email without the preview. You can also access this option using the keyboard shortcut Command-K.