Like the home screen on your iPhone and iPad and the desktop on your Mac, you can customize the background of the Home app. The default image of a fence draped in red leafy vines is nice, but you may want an image with some personal meaning or a different aesthetic. Making a change is easy.

In the Home app on an iPhone or iPad:
Click on the home icon in the top left corner.
Scroll down to the Home Wallpaper section.
Select Take Photo if you want to capture an image with the device's camera to use as the background.
Or tap on Choose from Existing to select a photo from your photo library.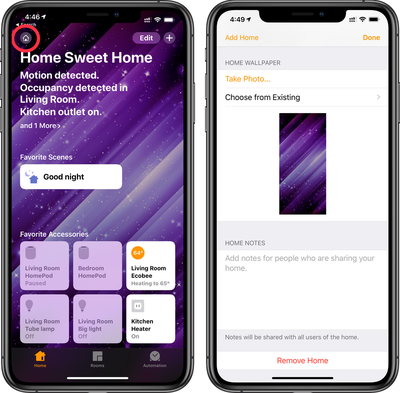 On a Mac:
Open the Home app then click the Edit menu.
Click Edit Home.
Scroll down to Home Wallpaper.
Choose one of the available wallpapers shown.
To use an image you already have on your Mac, just drag and drop the image into the open Home app and it will replace the existing wallpaper.
Note that the Home app wallpaper does not sync across your devices so you can set them individually by device.