In macOS Sonoma, widgets don't have to be hidden offscreen and largely forgotten in the Notifications Center panel, like they were in previous versions of Apple's macOS. Instead, they can be placed right on your Mac's desktop – and they're interactive, too.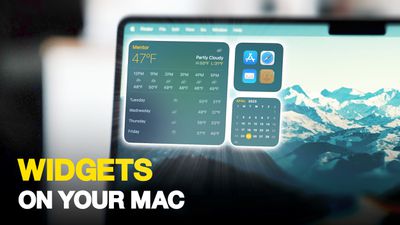 When not in use, macOS desktop widgets fade into the background by taking on a monochrome style, which makes them less distracting and allow you to concentrate on the task at hand in the active app or window. When you click back on the desktop, however, their return to full color.
If you prefer the monotone look and would rather retain this aspect of uniformity on your desktop, there is a way you can make it permanent. The following steps show you how it's done.
Open the System Settings app.
Click Desktop & Dock in the side column.
Scroll down to the "Widgets" section, then set the "Widget style" to Monochrome.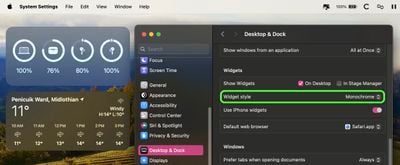 That's all there is to it. If you want to revert back to full color widgets that change to monochrome when in the background, or you want widgets to appear in full color at all times, choose either the Automatic or Full-color "Widget style" option in System Settings, respectively.