AirTags use standard coin-shaped CR2032 batteries, which are designed to last at least a year before needing to be replaced. No one should need to swap out a battery just yet, but when you do need a new battery, it's easy to put in a new one.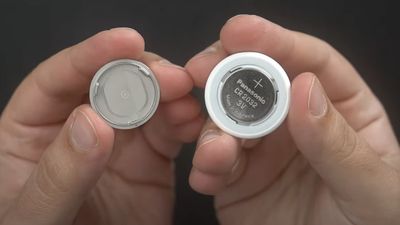 CR2032 batteries are common batteries that can be purchased on Amazon for about a dollar per battery, and you can also get them at many retail stores. Once you have a new battery, follow these steps to put it in:
Press down on the stainless steel backing of the AirTag.
As you press down, rotate counterclockwise until the cover stops rotating.
Pull apart the two halves of the AirTag.
Take out the old battery and replace it with the new battery in the same orientation, which is positive side up. You'll hear a chiming sound when the battery is seated correctly.
Replace the stainless steel bottom of the AirTag, and make sure the three tabs on the cover align with the slots on the AirTag.
Rotate the cover clockwise back in place until it stops.
You can check the battery capacity of an AirTag in the Find My app, and you will receive a notification on your iPhone when the battery is low to let you know that it's time for a replacement.