The iPhone has been around for more than 10 years, which has given accessory manufacturers time to come up with all manner of useful add-ons that enhance, protect, and charge your ‌iPhone‌.
There are so many ‌iPhone‌ accessories on the market that we can't go through them all, but in this guide, we're highlighting some products that we think are among the best accessories you can get for the ‌iPhone‌. We'll be updating this guide over time to add new items, remove old items, and highlight great products we come across, so make sure to check back in from time to time.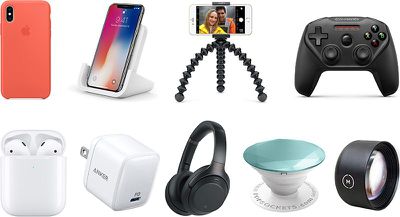 Cases and Screen Protectors
There are an endless number of ‌iPhone‌ cases and screen protectors on the market, and here at MacRumors, we've tested much of what's available. I'm not going to go through every ‌iPhone‌ case that you can get because that list would be endless, but will instead highlight some of the favorites that we've used over the years and some of the favorite brands of our readers.
- Silicone Cases from Apple ($35 to $39) - Apple designs ‌iPhone‌ cases to go along with its iPhones, and because these are Apple created, they're a perfect fit for every ‌iPhone‌. Apple's silicone cases are grippy, thin enough not to add a lot of bulk, and, most importantly, protective. I've been using silicone cases almost exclusively on my iPhones since the ‌iPhone‌ 6, and through many, many drops, some quite significant, my iPhones have always survived intact. If you don't like the feel of silicone, which some people don't, Apple also has a great selection of leather cases that are just as protective.


- Smart Battery Case ($129) - Apple has a series of Smart Battery Cases for all of its modern iPhones, which extend the battery life of your ‌iPhone‌. These cases are similar to the Silicone Cases from Apple, but have a bump for a battery pack on the back. If you're regularly running out of battery life during the day or want extra battery for an upcoming trip or outing, these cases from Apple are your best bet for extra power in a convenient way without having to carry another accessory. Apple's Battery Cases can charge wirelessly and you can see the battery life left right on your ‌iPhone‌.


- Velvet Caviar iPhone Cases ($30) - If you're looking for a case that's a bit out of the ordinary and more eye catching than your standard case, make sure to check out Velvet Caviar. Velvet Caviar cases are lightweight and don't add a lot of bulk, but will protect your ‌iPhone‌ from drops and bumps. There's a front bumper to keep your display safe too, and there are plenty of unique patterns.


- Spigen's Liquid Air Case ($19.99) - Spigen cases are super popular with MacRumors readers because they're protective, dependable, well-made, and won't break the bank. Spigen offers a ton of iPhone case options and all are pretty great, but the Liquid Air in particular is thin, making it perfect if you hate bulk, easy to get on and off, and protective. Another favorite is the Liquid Crystal, similar to the Liquid Air but clear so it lets the design of the ‌iPhone‌ shine through.


- iCarez Glass Screen Protectors (~$8) - There are a lot of screen protectors on the market at wildly different price points, and most of them function in a similar way. MacRumors videographer Dan vouches for iCarez's screen protectors, which are affordable, offer a perfect fit, and have an easy installation process. You can get iCarez screen protectors for all of Apple's iPhones at a discounted price on Amazon.

Chargers
- Logitech POWERED 3-in-1 Dock ($130) - The Logitech POWERED 3-in-1 Dock is a new entry in Logitech's lineup of wireless chargers, and a new favorite. It features an upright charger for charging the ‌iPhone‌, an Apple Watch charging puck, and a small space to charge the AirPods or another ‌iPhone‌. Upright chargers are great because your ‌iPhone‌ always goes in the right spot for wireless charging, and this model doesn't take up too much desk space.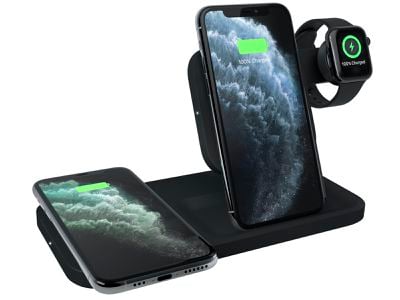 - Scosche BaseLynx Modular Charging System Kit ($90) - Scosche's BaseLynx is a modular charging kit that lets you buy just the components you need, snapping them together to form a customizable charging dock for all your devices. There's an Apple Watch charger, a wireless charger for the ‌iPhone‌, a slotted dock for charging an iPad and other devices, plus an add-on USB-C unit. Individual pieces are around $30 to $50, and kits with multiple pieces are available starting at $90.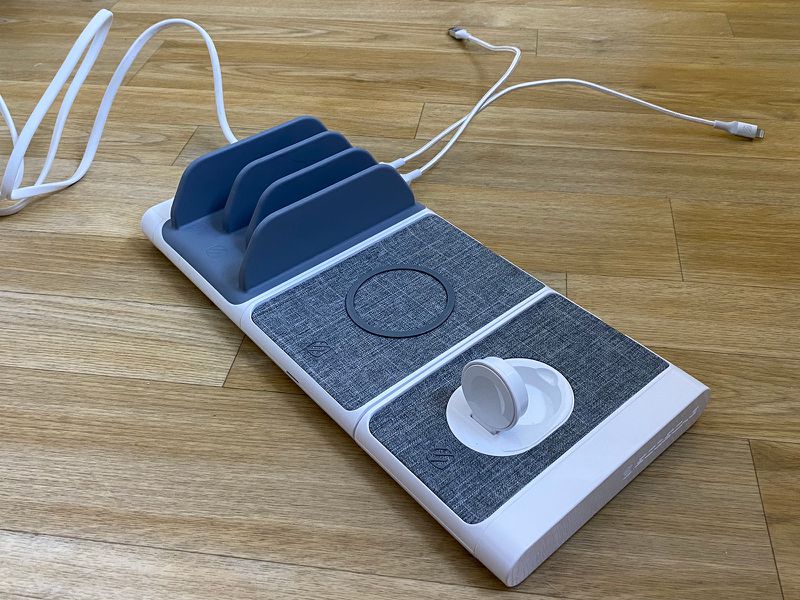 - Zens Liberty Wireless Charger ($140) - The Liberty Wireless Charger from Zens features 16 coils, which means overlapping charging power no matter where you place your ‌iPhone‌ or AirPods to charge. It also includes a USB-A port for charging an extra device or attaching an Apple Watch charger, which is available for an additional $30.


- Nomad Base Station Apple Watch Edition ($139) - Nomad's Apple Watch Base Station has an Apple Watch charging puck for charging the Apple Watch, along with a double coil Qi wireless charging pad, making it a great alternative to the now-canceled AirPower. You can use the wireless charging pad to charge the ‌iPhone‌ horizontally, but if you put the ‌iPhone‌ vertically, it frees up a little spot for charging the AirPods, so all three devices charge at one time. It's pricy, but it's one of the best multi-device chargers on the market.


- ElevationDock 4 ($50) - If you prefer charging over Lightning to wireless charging (it's faster!) the ElevationDock 4 is one of the best docks on the market. It's slim and doesn't take up much room on a desk, and the suction material on the bottom means that you can dock and undock your ‌iPhone‌ one handed. That might not seem like a big deal, but it's huge when it comes to convenience.


- Logitech 7.5W Powered Wireless Charging Stand ($69.95) - Working at MacRumors, I've tried endless wireless charging options and the upright chargers are my preference. It's easy to get your ‌iPhone‌ in the right spot for charging with no fuss and you can see the screen. Of the upright chargers I've tested, I like Logitech's Powered Wireless Charging Stand best. It always works, I can put my ‌iPhone‌ in when it's dark at night and I know it's charging, it's 7.5W, and it doesn't take up too much space on my desk. It's pricier than the cheap chargers on Amazon, but it's sturdier, looks better, and Logitech is a trusted brand so I know it's safe. Belkin's $70 Boost Up Wireless Charging Stand is a close second.


- Anker Wireless Charger ($50) - If you're looking for a high-quality Qi-based wireless charging stand for your ‌iPhone‌ that's not too expensive, you might want to check out the Anker PowerWave. It features 7.5W wireless charging, is equipped with a fan to keep your ‌iPhone‌ cool for faster charging, and it's an upright charger so you can see the screen while your ‌iPhone‌ charges. If you want something cheaper, we also like Anker's $22 PortPort Wireless Stand.


- Zens Dual+Watch Wireless Charger ($112) - If you want an AirPower replacement that can charge your ‌iPhone‌, AirPods, and Apple Watch all at once, the Zens Dual+Watch Wireless Charger is worth checking out. It has an arm with a magnetic Apple Watch charging puck built in along with a base with dual wireless charging coils where you can put your ‌iPhone‌ and your AirPods Wireless Charging Case. It's available in both black and white, and it's MacRumors editor Mitchel's favorite wireless charger. Check out his review here.


- Scosche MagicMount Pro Charge ($60) - If you need an in-car Qi-based wireless charger, MacRumors editor Mitchel recommends the Scosche MagicMount Pro Charge, which charges the ‌iPhone‌ at 7.5W and can be attached to a window or dashboard so your ‌iPhone‌ is at eye level while you're driving. It uses magnets to hold the ‌iPhone‌ in place, and it can also be used in the house. Check out our Scosche MagicMount Pro Charge review here.

Photography and Videography
- Moment iPhone Lenses ($99+) - There are a lot of ‌iPhone‌ lenses out on the market that promise to improve your ‌iPhone‌ photography, but Moment's are some of the best I've used. Moment has super high quality telephoto (58mm) and wide-angle (18mm) that won't distort your images or lower the quality, and if you want to capture cinematic video (or photos) the anamorphic lens is a must have. Moment's lens system is super streamlined and attaches to your ‌iPhone‌ using a special iPhone case, which is sleek and protective in its own right. Moment also has a great collection of lens storage accessories.


- GorillaPod Stand Pro ($41) - I've been using Joby's GorillaPods for years now, both with my DSLR and my ‌iPhone‌. You can manipulate them into any position thanks to the bendy legs, and you can put them anywhere for the perfect shot. The GorillaPod is super stable, works in landscape or portrait, and can be used with or without a case.


- DJI Osmo Mobile 2 ($130) - DJI's first Osmo smartphone gimbal for capturing video was expensive, but the Osmo Mobile 2 is more reasonably priced at $130, a standard price for a good gimbal. If you want to capture professional looking video on an ‌iPhone‌, a smartphone gimbal is the way to go for stabilization. The Osmo Mobile 2's sensors and motors make sure your smartphone stays steady no matter what you're doing, and the battery lasts up to 15 hours.


- Zhiyun Smooth II 3 Axis Gimbal for iPhone ($190) - If you like to capture video with your ‌iPhone‌, a handheld camera mount is invaluable to make sure you're getting smooth, shake-free footage. Zhiyun makes a range of gimbal camera mounts, including the Smooth II, which offers full 360 degree rotation and a 5-way joystick for adjusting angle. Check out our review here.


- SandMarc Camera Lenses ($90 to $100) - SandMarc makes a range of add-on lenses for Apple's modern iPhones, offering a 2x wide-angle lens, a fisheye lens, a macro lens, and a 2x zoom telephoto lens. These are high-quality lenses that produce crisp, clear images, and they're a favorite of MacRumors editor Tim. They're around $99 each, but you can get a discount if you buy a bundle.


- Kenu Stance Tripod ($9.95) - If you just need a simple, inexpensive tripod for photos or video watching, the Kenu Stance is a great little device at an affordable price. It fits into the Lightning port of your ‌iPhone‌ and can be used to prop it up in either photo or video mode.

Headphones
- AirPods 2 ($199) - No ‌iPhone‌ recommendation list would be complete without Apple's AirPods, because there's a reason these are some of the most popular earbuds on the market. There are no wires, connecting to the ‌iPhone‌ is super fast (and even faster with AirPods 2), battery life is impressive, they're comfortable, and there's "Hey Siri" support and wireless charging compatibility so you can charge them up with any Qi-based wireless charger.


- Sony WH1000XM3 Headphones ($348) - Sony's WH1000XM3 Headphones are a solid choice if you need noise canceling, and they're a favorite of several of us here at MacRumors. These headphones aren't cheap, but the noise canceling technology is excellent, they're super comfortable, and the audio sounds great. If you use Alexa, they're also Alexa enabled so you can get hands-free access to your music. Neat features like a touch gesture for temporarily turning down your music and ambient sound adjustment also make these an appealing pick.


- Beats Studio3 Wireless Headphones ($280) - Apple's Beats headphones are sometimes maligned for poor audio quality, but the Beats Studio3 Wireless sound great, offer excellent battery life, and are comfortable to wear for long periods of time. The Active Noise Canceling is useful, and with the included W1 chip, they connect to the ‌iPhone‌ as quickly and as easily as AirPods.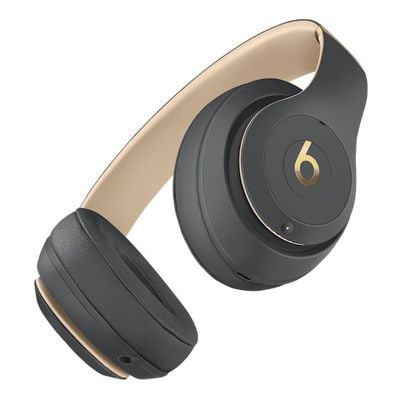 - Bowers & Wilkins PX Active Noise Canceling Wireless Headphones ($400) - Bowers & Wilkins is known for excellent sound quality, which makes them MacRumors editor Marianne's favorite headphones. They feature active noise canceling, which is great for travel, and they're comfortable. These are wireless, so they connect to your devices using Bluetooth and have up to 22 hours of connectivity with ANC activated and 29 hours without it. You can also use these with a wired connection if desired for even longer battery life.

Gaming
- SteelSeries Nimbus Wireless Gaming Controller ($50) - If you like to play games on ‌iPhone‌, ‌iPad‌, or Apple TV, many game titles support Made for ‌iPhone‌ Apple-certified controllers, so you can play like you would play a traditional console title, using a controller instead of the touchscreen. SteelSeries has long had its Nimbus controller available, and it's one of the better Made for ‌iPhone‌ controllers we've tested.

Cables, Power Adapters, and Battery Packs
- 45W ZMI 20,000mAh USB-C Battery Pack ($70) - If you're looking for a USB-C battery pack to power everything from your MacBook to your ‌iPhone‌, the 20,000mAh USB-C battery pack from ZMI is a solid choice. It can charge most of your device multiple times over, it's affordable, and it's small enough to carry with you. You can also use it as a hub thanks to an extra USB-A port and hub functionality. We did a comparison of the most popular USB-C chargers on the market, and ZMI was one of our favorites.


- 45W Jackery Supercharge 26800mAh USB-C Portable Charger ($120) - Our other favorite USB-C battery pack comes from Jackery. The 26800mAh Supercharge has enough power for your MacBook Pro, and at 45W, it charges reasonably fast too. It can fast charge your ‌iPhone‌ (with appropriate cable) and ‌iPad‌, making it perfect for all of your devices. There's a clear readout of remaining battery, which we loved, and it includes a 45W power adapter so you can charge it up fast.


- Anker PowerPort II USB-C PD Charger ($30) - Anker's 49.5W PowerPort II Charger comes equipped with USB-C port that offers up to 30W of power along with an extra USB-A port, so you can charge your MacBook or ‌iPad‌ or fast charge an ‌iPhone‌ along with another accessory that uses USB-A. It's affordable and a great alternative to a 30W charger from Apple.


- Anker 30W PowerPort Atom PD1 USB-C Power Adapter - If you need a 30W USB-C power adapter for fast charging purposes, Anker's PowerPort Atom PD1 is an excellent choice. It's much smaller than your average power adapter because it's using new Gallium nitride (GaN) semiconductor components, making it more portable and ensuring it takes up less space when used with a power strip. Anker's also known for its high-quality line of ‌iPhone‌ accessories and is a favorite of MacRumors. Make sure to check out our full review.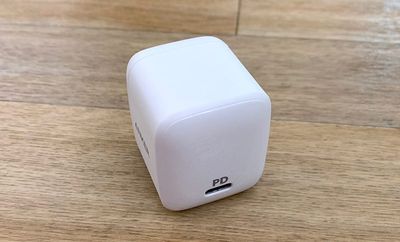 - Mophie Charge Force Powerstation ($57) - Mophie makes a wide range of external battery packs for iOS devices, all of which are reliable. The Charge Force Powerstation is a middle-of-the-road option that offers a respectable 10,000mAh capacity, enough to charge your ‌iPhone‌ a couple of times. Passthrough charging is supported, as is Qi-based wireless charging so you don't even need a cable with Apple's latest iPhones.

Other Accessories
- Fuse Cable Organizers ($10 to $30) - Fuse has a whole line of cable organizing products designed to wrangle messy cables, with options for Macs, iPhones, iPads, and more. If you're looking to get your cables in order, Fuse's products are well worth checking out. They're simple, affordable, and effective.


- Phone Loop ($4.99) - Phone Loops are a useful and inexpensive ‌iPhone‌ accessory that adds a bit of extra grip without adding any bulk. These are designed to fit underneath your ‌iPhone‌ case, and they work with a wide variety of case designs. The Loop goes through the camera cutout on the smartphone and wraps underneath the ‌iPhone‌, cleverly providing a strap you can hold on to.


- PopSockets ($10 to $15) - PopSockets are incredibly popular because they're useful for holding an ‌iPhone‌ in one hand for photos, web browsing, and more, and the PopSocket also serves as a stand. Because these things are absolutely everywhere you might already have one, but if not, it's $10 well spent. You can use PopSockets with or without a case.


- Cable Bites ($5 to $10) - Cable Bites are little rubber animals that are designed to fit over the end of a Lightning or USB-C cable. They're cute, but they're also designed to be functional, preventing wear and tear on the cable from bending.

Guide Feedback
Know of an awesome ‌iPhone‌ accessory that isn't in our guide but should be? Let us know in the comments below or Send us an email.