AirPods: 2023 Buyer's Guide
The AirPods have been around since 2016, and at this point, there have been several iterations along with the launch of the AirPods Pro and the AirPods Max. With three options available, you might be having some trouble figuring out which you should buy.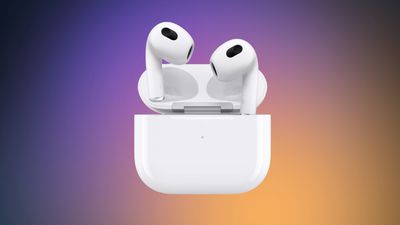 This guide walks through the different AirPods models that you can purchase right now, highlighting the similarities and the differences between them to help you pick the best option.
AirPods vs. Sony, Bose and Other Third-Party Options
First off, if you're curious why you should choose AirPods at all when there are so many headphone brands on the market, it's because AirPods offer the best integration with Apple's iPhones, Macs, iPads, Apple Watches, and Apple TVs.


There are features that third-party manufacturers cannot match, such as quick one-tap device pairing, one-tap switching with devices where you're logged in to your Apple ID, Spatial Audio for TV shows, movies, and music, Hey Siri integration, and Find My support for some models. If you have an Apple device, Apple-designed headphones are your best bet.
All AirPods models are wire-free and are designed to connect to your devices using Bluetooth.
Beats Headphones vs. AirPods
Apple owns the Beats by Dre brand, and there are several wireless earbud options that are competitive with AirPods, including the Beats Fit Pro, Beats Studio Buds, and Powerbeats Pro. These earbuds offer many of the same quick pairing and automatic switching features as the AirPods, and could be worth checking out if you prefer the Beats style and fit.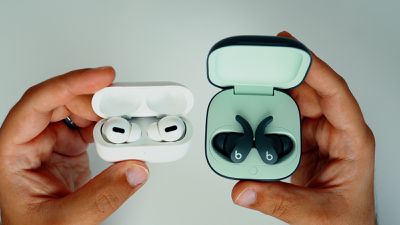 Beats earbuds are more fitness oriented than the AirPods, ‌AirPods Pro‌, and ‌AirPods Max‌, with the Beats Fit Pro and Powerbeats both aimed at those who need a more secure in-ear fit.
In-Ear AirPods vs. Over-Ear AirPods
There are two general types of AirPods, including the over-ear ‌AirPods Max‌ and the in-ear AirPods and ‌AirPods Pro‌ that are smaller and designed to fit in the outer ear. If you're looking for ear cups connected by a headband that are worn over the ears and on the head, the ‌AirPods Max‌ are the only option that Apple offers.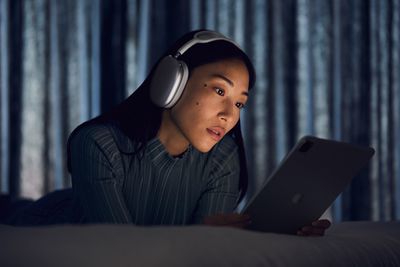 AirPods and ‌AirPods Pro‌ have a similar small earbud-like design, and the difference between them is that the ‌AirPods Pro‌ have silicone ear tips for a better sound seal, while the AirPods do not.
AirPods vs. AirPods Pro and AirPods Max - Noise Canceling
Aside from design, the major difference between the AirPods, ‌AirPods Pro‌, and ‌AirPods Max‌ is noise cancellation. The ‌AirPods Pro‌ and ‌AirPods Max‌ offer Active Noise Cancellation, and the lower-cost AirPods do not have noise cancelling capabilities.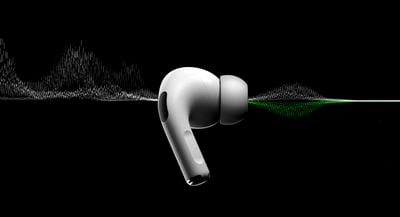 AirPods 2 and 3 Overview
The first earbuds that Apple came out with were the AirPods, and as of now, there have been three iterations in total. The AirPods 3 are the most recent version, priced at $179, while the AirPods 2 are a prior-generation version available at a more affordable $129 price point.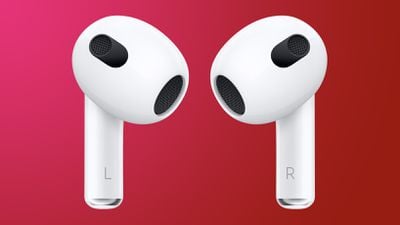 When you think of AirPods, it's probably the AirPods 2 and 3 models that come to mind, as they feature Apple's tipless in-ear design with longer white stems that come down. Compared to AirPods 2, ‌AirPods 3‌ feature a Force sensor for more music control gestures, Spatial Audio support with dynamic head tracking, better water resistance, longer battery life, improved sound quality, a better skin detection sensor for improved accuracy when pulling them out of your ears, and a MagSafe charging case (or Lightning, for a $10 discount).
If you can afford it, the ‌AirPods 3‌ are enough of an upgrade over the AirPods 2 to justify the extra $50, and these are your quintessential earbuds perfect for yourself, kids, giving as gifts, and more. The AirPods were last refreshed in 2021, which was when Apple introduced the third-generation AirPods.
AirPods 3 Key Features:
In-ear design with vent system
Force sensor controls
H1 chip
‌MagSafe‌ Charging Case with ‌Find My‌
Spatial audio
Skin detect sensors
5 hours battery with Spatial Audio
24 hours listening time with charging case
IPX4 water/sweat resistance
Dual-beamforming microphones
Bottom Line: The ‌AirPods 3‌ are Apple's iconic earbuds that have a universal comfortable fit for everyday use when listening to music, making calls, and more. They're simple, affordable, easy to use, and they pair perfectly with Apple devices.
The AirPods 2 are a more affordable version of the ‌AirPods 3‌ but without ‌MagSafe‌ charging, and neither version of the AirPods feature noise cancellation, so if that's a feature you're looking for, you need to upgrade to ‌AirPods Pro‌.
AirPods Pro Overview
The ‌AirPods Pro‌ are Apple's newest earbuds, refreshed in September 2022. The second-generation ‌AirPods Pro‌ are Apple's in-ear noise cancelling earbuds, offering the ANC capabilities of the ‌AirPods Max‌ in an earbud size similar to the AirPods. Notably, the ‌AirPods Pro‌ have Adaptive Transparency, which lets you hear what's around you while drowning out extra loud sounds like sirens, noisy concerts, and more, which can damage hearing.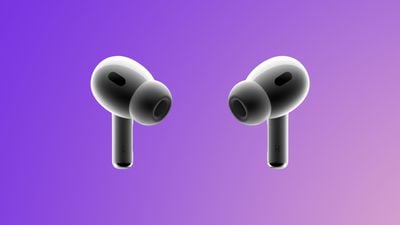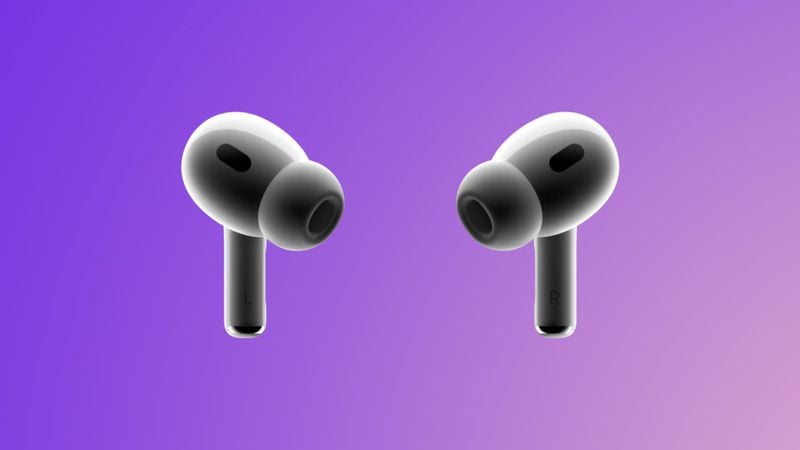 As Apple's newest product, the ‌AirPods Pro‌ feature an updated H2 chip with more advanced noise cancellation technologies, IPX4 sweat and water resistance, and longer battery life. If you want small, portable earbuds that have noise cancellation features for everyday use, the ‌AirPods Pro‌ are the way to go. Apple sells the ‌AirPods Pro‌ for $250, a price that includes a ‌MagSafe‌ Charging Case.
Key Features:
In-ear design with silicone ear tips and vent system
Force sensors and touch-based controls
H2 chip
‌MagSafe‌ Charging Case with ‌Find My‌
Spatial audio
Skin detect sensors
5.5 hours listening time with Spatial Audio
30 hours listening time with charging case
IPX4 water/sweat resistance
Active Noise Cancellation
Adaptive Transparency
Dual-beamforming microphones
Lanyard loop
Bottom Line: If you want an in-ear form factor with Active Noise Cancellation, the ‌AirPods Pro‌ 2 are the earbuds to pick up. Apple improved ANC this year compared to the original ‌AirPods Pro‌, plus battery life has increased and there's now a ‌MagSafe‌ charging case that can charge via Lightning, ‌MagSafe‌ charger, Qi charger, or even an Apple Watch charger, so it's super versatile. The ‌AirPods Pro‌ are Apple's best in-ear earbuds.
AirPods Max Overview
The ‌AirPods Max‌ are Apple's first and only Apple-branded headphones that are designed to be worn over the ear. Offering higher quality audio than the AirPods or ‌AirPods Pro‌, the ‌AirPods Max‌ are on par with over-ear options from companies like Sony and Bose.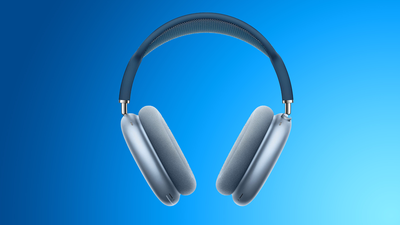 The ‌AirPods Max‌ feature Active Noise Cancellation and a Digital Crown for volume adjustment, plus they have the longest battery life of any of the AirPods at 20 hours. There is no charging case, though, so there's no extra battery life. For over-ear headphones, the ‌AirPods Max‌ are comfortable, but some users find them heavy and tight on the head, and they are not as universally comfortable as the AirPods or ‌AirPods Pro‌ for all people.
Apple has not updated the ‌AirPods Max‌ since 2020, and they are due for a refresh.
Key Features:
Over-ear design with magnetic ear cups
Aluminum build, padded headband
Noise control button, Digital Crown for volume adjustment
Active Noise Cancellation
Transparency
H1 chip
Position and case-detect sensor
Up to 20 hours listening time
Spatial Audio support
Three microphones for voice pickup
Smart Case preserves battery charge
Charges via Lightning
Bottom Line: For those looking for an over-ear headphone solution, the ‌AirPods Max‌ are worth picking up, though it is worth noting that the ‌AirPods Max‌ have not been updated since 2020 and so we could see a refresh soon. ‌AirPods Max‌ are similar to the ‌AirPods Pro‌ with Active Noise Cancellation, but with an over-ear fit. They're much larger than Apple's in-ear options, and have a high-quality aluminum build with comfortable fabric-covered ear cups.
Frequently Asked Questions
Which AirPods Are Cheapest?
The prior-generation AirPods 2 are Apple's cheapest earbud option at $129, but they can sometimes be found on sale for under $100 from third-party retailers. They have many of the same features as the ‌AirPods 3‌, but lack the Force sensor for additional gestures, Spatial Audio, and ‌MagSafe‌ charging case. Battery life is also lower.
If you don't need bells or whistles like Spatial Audio, the AirPods 2 can save you some money, but the ‌AirPods 3‌ offer better sound quality, better voice quality for calls, and they work with Spatial Audio for TV shows, music, and movies.
Which AirPods Have the Best Noise Cancellation?
Both the ‌AirPods Pro‌ 2 and the ‌AirPods Max‌ have Active Noise Cancellation functionality, but it differs somewhat because the ‌AirPods Max‌ are over-ear headphones and the ‌AirPods Pro‌ are in-ear.
The ‌AirPods Pro‌ 2 are newer and Apple introduced a more advanced Active Noise Cancellation technology. Both work to drown out typical noises that you might want to block like airplane sounds, fans, air conditioners, and road noise, but the ‌AirPods Pro‌ 2 require a good in-ear fit for the best noise cancellation, while the ‌AirPods Max‌ don't need much adjustment as over-ear headphones.
The best ANC is a matter of opinion and it's best to pick based on fit preference. If you want in-ear buds, get the ‌AirPods Pro‌, but if you prefer larger over-ear headphones, it's best to go with ‌AirPods Max‌.
Which AirPods Are Most Comfortable?
The ‌AirPods Pro‌ and the AirPods are both regarded as highly comfortable for most people with their ergonomic designs and included vents, but the ‌AirPods Pro‌ may have the edge because of the silicone tips.
Ears are all different, so it may be best to try out the AirPods, ‌AirPods Pro‌, and ‌AirPods Max‌ in the store to see which is the best for you.
Which AirPods Have the Best Microphone Quality?
If you're getting AirPods primarily for phone calls, microphone quality may be a concern. Both the ‌AirPods 3‌ and the ‌AirPods Pro‌ 2 have dual beamforming microphones so you sound clear to the person on the other end of the call, and call quality between the two is similar.
Noise cancelation in the ‌AirPods Pro‌ will block out more sound that you're hearing so you may be able to hear the person on the other end better, and the ‌AirPods Pro‌ have Bluetooth 5.3 vs. Bluetooth 5 for the ‌AirPods 3‌, so there may be some sound improvements because of that. For the best possible sound quality, the most recent ‌AirPods Pro‌ 2 are ideal.
As for the ‌AirPods Max‌, they have three microphones that are used for voice pickup, including two shared with Active Noise Cancellation and then one additional microphone. There are also multiple microphones for Active Noise Cancellation, so you can count on high quality sound for phone calls.
Which AirPods Have the Most Features?
The ‌AirPods Pro‌ 2 are Apple's newest AirPods and they have the most advanced feature set. There's next-generation Active Noise Cancellation technology, Adaptive Transparency for drowning out loud noises like sirens and construction work, a lanyard loop, a case with built-in speakers for locating them via ‌Find My‌, and more.
If you want the newest and best AirPods, it's the ‌AirPods Pro‌ you're looking for. The AirPods were last updated in October 2021 and the ‌AirPods Max‌ haven't been updated since their December 2020 launch. We are expecting an ‌AirPods Max‌ update at some point in 2023 or 2024, which prospective buyers should be aware of.
Read More
We have dedicated roundups for all of the AirPods options, which go into much more detail on all of the available features.
Guide Feedback
Have questions about choosing AirPods, notice something we left out, or want to offer feedback on this guide? Send us an email here.