Taylor Swift Named Apple Music's Artist of the Year
Apple today announced that Taylor Swift has been named Apple Music's Artist of the Year for 2023 after reaching "a new realm of superstardom this year."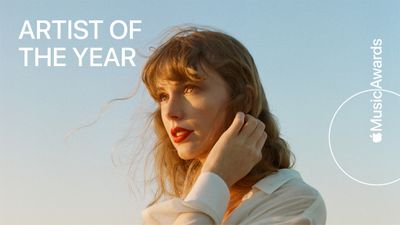 Swift released a new album last month called 1989 (Taylor's Version), and she has been on tour this year. Apple says in the first 10 months of 2023, Swift had 65 songs reach Apple Music's Global Daily Top 100, which was more than any other artist.
"I am so honored to be Apple Music's Artist of the Year," said Swift. "Thank you to every single one of you for making this year the most incredible, joyful, celebratory year ever. From streaming the music nonstop to screaming it together in real life at the shows, dancing chaotically in movie theaters, none of this would have been possible without you. Thank you so much."
"Taylor Swift's impact on music is absolutely undeniable — not just this record-breaking year, but throughout her entire career," said Oliver Schusser, Apple's vice president of Apple Music and Beats. "She is a generation-defining artist and a true change agent in the music industry, and there is no doubt that her impact and influence will be felt for years to come. We are thrilled to have the opportunity to celebrate her achievements."
Swift will receive a physical Apple Music Award featuring Apple's custom 12-inch silicon wafer.